Companies that refuse to adopt new technologies in the next few years will stay far behind the competition
07. 10. 2022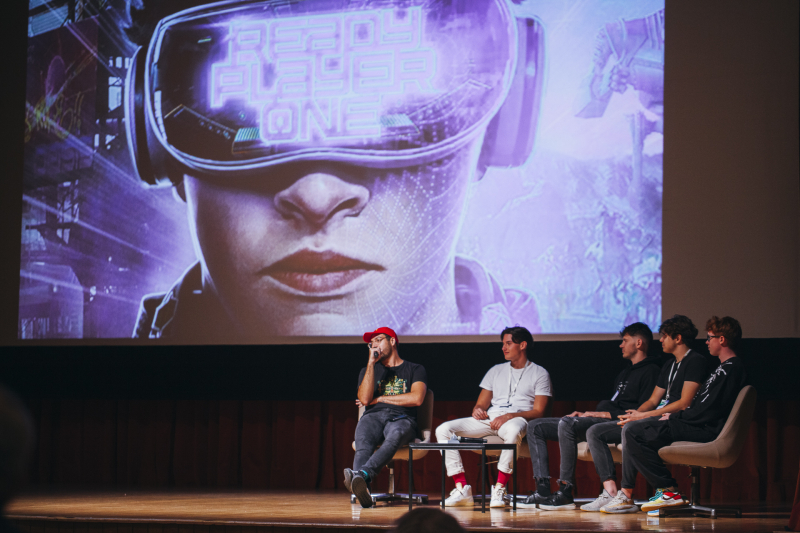 Companies that refuse to adopt new technologies in the next few years will be left far behind the competition, was the key message of the Word Future Verse Conference organized by the Technology Park Ljubljana and its partners from September 29 to October 1, 2022. Around 470 participants from more than twenty countries spent three days discussing topics that are already knocking on our doors today and will be inevitable in the future business world. Topics such as Metaverse, NFT, Internet 3.0 and Blockchain technologies are not yet widespread, but they will represent the same milestone as the Internet in the 90s.
The future trends were announced by world-renowned names
More than 110 experts from all over the world participated in the conference. Among the most famous were Crypto Megan, Dr. Jane Thomason, Loretta Joseph, Luke Gniwecki, Antonio Squeo, Bruno Ver and many others. Three days of high quality content enabled various insights into the development of technologies in the future, discussions and contradictions, as well as the search for synergies that will allow for a flourishing and broader knowledge among users.
The future lies in the decentralization of ownership
Both blockchain technology and Web 3.0 enable complete transparency and traceability of operations, which is what we all want for the future, and the world is already rapidly moving in that direction. The speakers agreed that in the future, people will use new technologies unknowingly because they will be part of our daily lives in subtle ways.

For example, we will massively use NFTs with blockchain technology without realizing it. It is inevitable that companies that do not implement new technologies will begin to fall far behind the competition in five years, says David Kvaternik, expert and consultant on digitalization and new technologies at Tovarna tech. You do not have to switch to web3.0 right away; you can start with web2.5. first.Take it one step at a time and you'll move much faster than you would otherwise. Companies that prioritize higher purpose and communities will win.

"What kind of future we want and build, we decide together with the community and not alone, because we will live together in this community, so we want to take into account a wide range of opinions and desires," says Miha Hrovat, founder of the environmental protection project Treecelet.
The other speakers at the event also emphasized the importance of building communities enabled by new technologies, presenting this as one of the most important upcoming trends.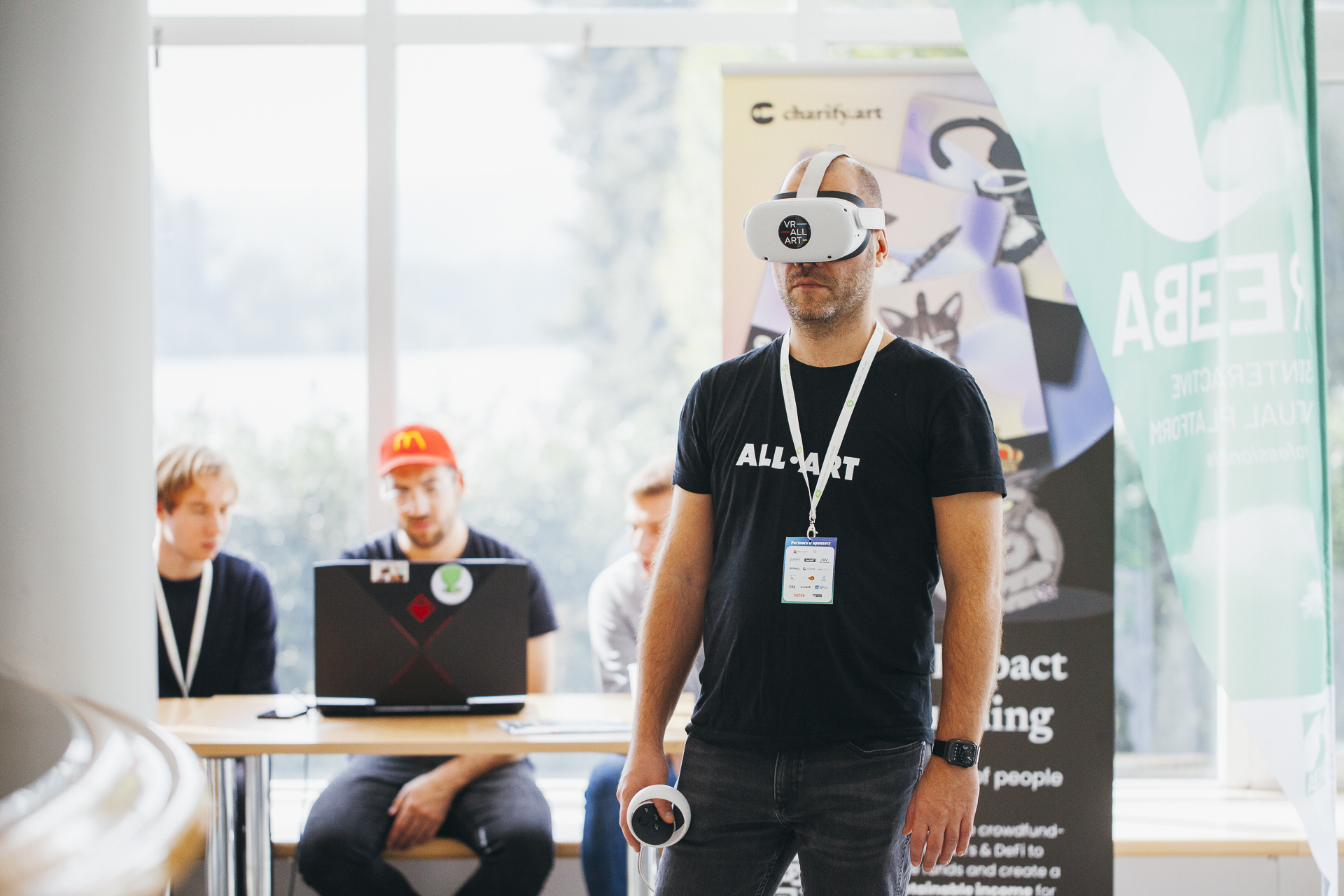 Blockchain is a technology, NFT is a digital asset
Belgian multi-entrepreneur, investor and blockchain expert Bruno Ver says that NFTs gain meaning when you add utility and value to them. He presented some practical examples: If you own an NFT of a very expensive car, you can also get the opportunity to drive it. Or if you go to Ikea and get a receipt for the purchased goods. That receipt is not worth much because people often lose it or throw it away. With blockchain technology, it's different because it's a permanent record of ownership, which is why it's a very convenient, simple and reliable technology, adds Ver. And using NFTs based on blockchain technology is the future. The true value of products and property only exists when the physical also becomes digital.

Blockchain technology is about ownership, intellectual property, transparency and security - all at the same time. It eliminates the possibility of fraud and forgery and is an indestructible proof of ownership.
Regulation must adapt to the market
Everyone agreed that the field of new technologies also needs regulation to protect people and communities. However, regulation should never hold back progress and set too narrow a framework. Technologies need to evolve, and regulation only directs the "flow of the current".

The government could help by providing funding or lowering taxes. Another way to encourage development is to make it easier for companies that are operating on the Web2 to enter the Web3 through tax cuts. 

What is Metaverse?
Metaverse is the web, not virtual glasses," explained Boris Spremo, an expert in entrepreneurship and new technologies, introducing the impressive Holomuseum project. It is a digital twin of reality, a monumental work that carries history to the whole world with the help of an avatar.
He introduced the six pillars of the metaverse:
- CULTURE - We need influencers to adopt and share values
- INVOLVEMENT - There is a need to engage, get involved and understand what our users want
- USABILITY - We need real-world goods and experiences and an added value plan
- ECONOMICS - ethical pricing and respect for resources
- IMPLEMENTATION - reliable technology and smooth execution
- "THE SECRET SPICE" - unexpected pleasures and a satisfying user experience
Everything that is digital is also real
"Everything that exists in real life will also have a digital twin. And everything that is digital is also real," said David Kvaternik. He emphasized that all this is already possible with blockchain technology. For example, we buy virtual land, implement WebAR, XR fairgrounds, conduct experimental marketing campaigns, create avatars and so on.

The fashion industry is also rapidly moving towards digitalization. Renowned Slovenian fashion designer Maja Ferme says that up to 85 percent of new clothes are thrown away every year, so we have to start thinking sustainably. The new generations have no need for physical products. They want digital products. In the real world, high fashion is dying a little bit, it's not as exciting anymore, whereas in the digital world there are no limits, we can express ourselves in unlimited ways, we are not bound by body shape, situation, space, gender or identity. We can be absolutely anything. We can make a suit out of water or fire.

"People want uniqueness, not quantity. In the digital world, there are already vintage fairs. For me, the first interaction with the metaverse is as going to a concert. I get there, I can dress how I want, have fun, nobody knows me. The metaverse is not an extension of the physical world, but something brand new," added Žiga Kerec, software engineer and co-founder of Pablu.tv.   
The future of tourism and travel
Part of the conference was dedicated to the future of tourism using new technologies. We will be able to travel with the help of virtual reality. Experts predict that there will be more short trips, for example, we will be able to go to Cuba for an hour after work. Technology will be so advanced that we will actually be able to feel sensations like touch. With special gloves we will be able to touch things in virtual reality. In the real world we have many physical limitations that do not exist in the virtual world.  The famous Slovenian tourist attraction Postojna Cave takes a maximum of 1 million visitors per year as it is physically impossible to increase the capacity. In the metaverse, the Postojna Cave could be visited by several billion people.
Metaverse can be a great opportunity for tourism as it allows for unlimited capacity and creativity in usage. It's a breath of fresh air in tourism, so let us welcome it with open arms.
And when can we hire an avatar guide? Rudi Medved, who is actively involved in Web 3.0 tourism, says that in principle very quickly. The technology itself is not a problem, because we can create anything. The problem is the implementation, use and acceptance of these new technologies. We would like to remind you that Slovenia was the first country in the world to issue NFT tokens at the opening of EXPO Dubai 2020, which we used to promote our tourist destinations.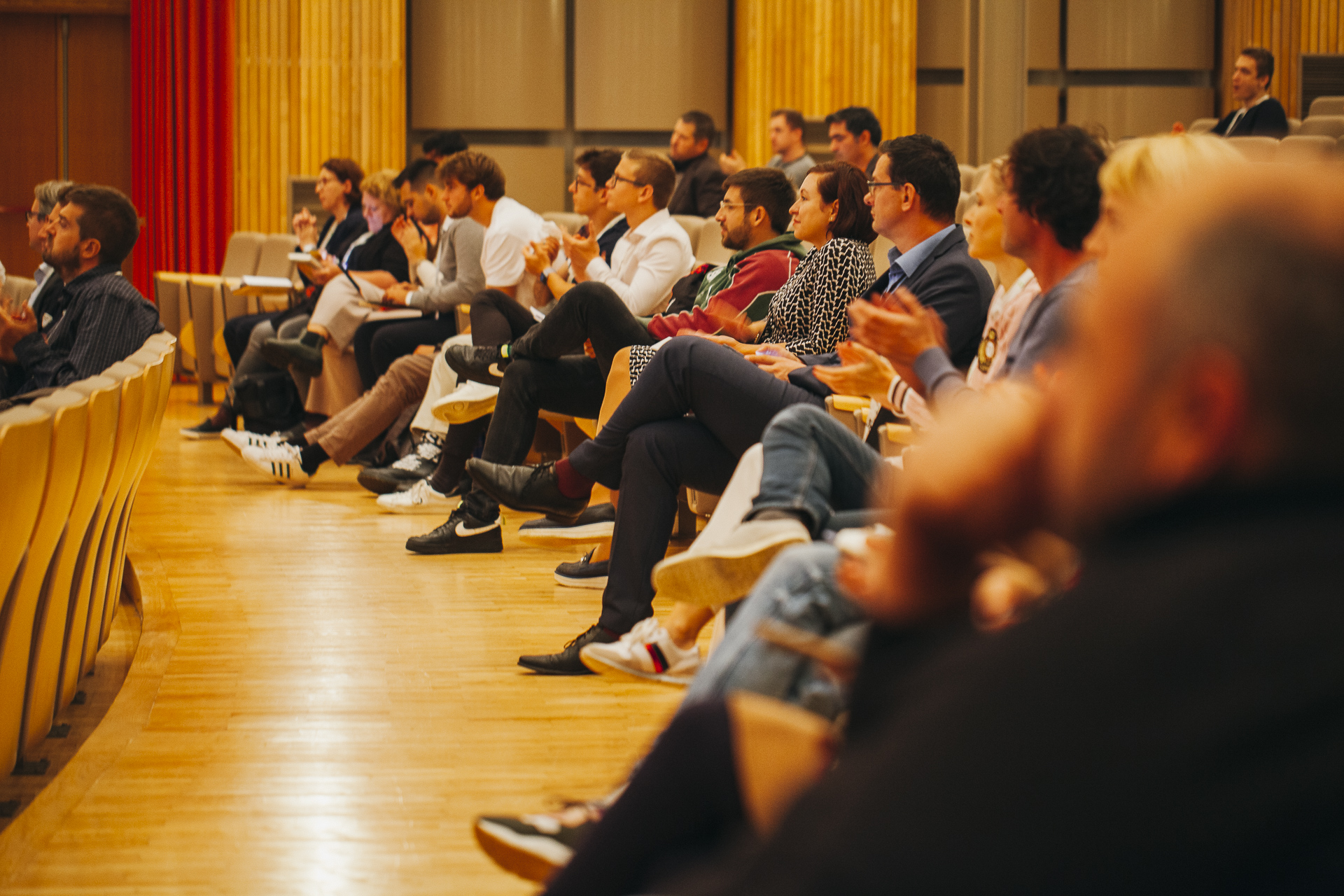 NFts can be a great source of income for sports clubs 
NFTs are a very broad area of ​​new opportunities, you need to inquire, get involved, educate yourself and explore the possibilities, the experts agreed.  
Klemen Vodopivec and former renowned basketball player Dino Rađa presented the Ballies project, an NFT platform for combining passion for sports and collecting. For example, if you are the owner of a Ballie (NFT), you get the opportunity to talk with top professional basketball players. The goal of this type of use of NFTs is to bring celebrities and idols closer to their fans. If you have an NFT and buy a basketball ticket, you can get, for example, 15 minutes of hanging out with Luka Dončič. 
Mladen Ljubišić from Fitbeat.io presented how to use blockchain technology to improve licenses for fitness trainers. They combined XR and blockchain-based artificial intelligence. They launched an application that, with the help of artificial intelligence, allows you to exercise and monitor the results. People will be able to exercise at home in augmented reality. 
Jožko Križan, consultant in sports marketing, presented the possibility of concluding sponsorships and the implementation of marketing services on the example of the Slovenian ski jumping event in Planica. Users and fans will be able to co-create events with NFTs, entry to certain stands will be possible only with an NFT.
How can a more modern education system be achieved?
Speakers also addressed the issue of education, pointing out the problem that the world, technologies and economic systems are changing rapidly, but the education system remains the same. It is important to educate children about new technologies, about different possibilities and opportunities in the future. Modern platforms on how to teach people and children new technologies and skills were presented.

Aleš Pevc, Head of Technology Development Projects at Technology Park Ljubljana, invited the participants to become ambassadors for the education of young generations, as we do at the Technology Park with projects such as POPRI, PoMP, Think XR, all of which aim to encourage young people to become entrepreneurs and use new technologies.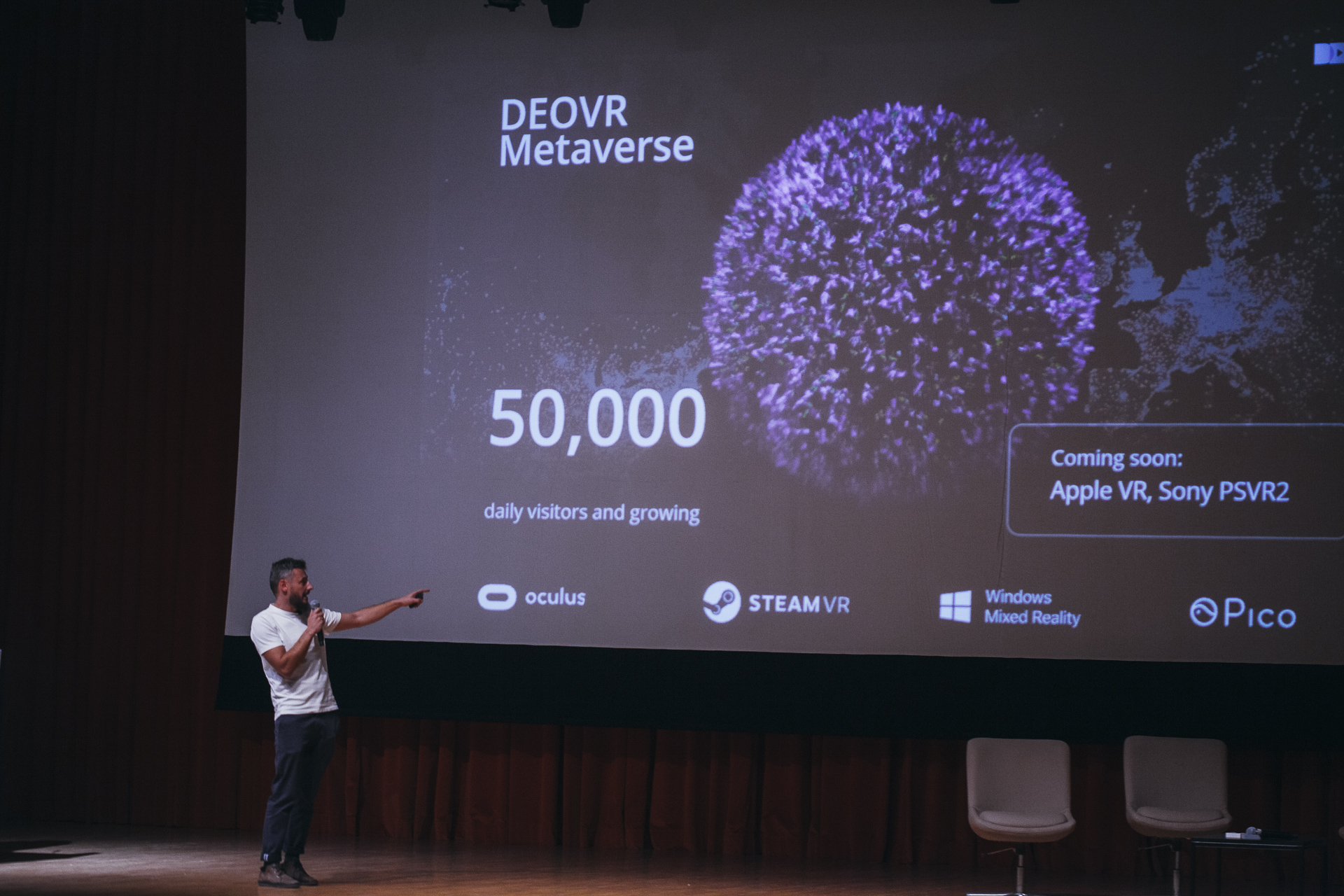 Are we ready for virtual influencers?
At the conference, we were also impressed by the progress of the younger generations (Generation Z), who are already very active users of new technologies and will certainly sweep away the competition if they do not follow them.
They are actively creating NFTs, trading cryptocurrencies, creating advanced digital marketing agencies and creating virtual influencers. Their guiding principle is creativity, uniqueness, following market demands and latest trends, as well as sustainability. They predict that the next big thing is DAOs - decentralized autonomous organizations, Web 3.0 and virtual avatars.
The world order is changing
All conference participants agreed that the world order is changing and that people are increasingly seeking decentralized ownership and transparency. This is enabled by both Web 3.0 and blockchain technology. People want to belong to communities, be productive, collaborate and help co-create the world they live in. The future will bring new media and new channels.

Enthusiastic activist and international expert Megan Nillson (Crypto Megan), who is a great ambassador for the use of new technologies, also paid close attention to this. She urged the attendees not to be afraid of something just because it is unknown. She is also very active in advocating for the inclusion of women in the world of Web3.0, blockchain and NFT.

People want to be part of their "tribe." At least 80% of the time you have to entertain them, build a real bond with them and bring more and more empathy into the business, said Elad Yakobowicz, NFT and Metaverse strategist, technophile and expert on digital consumption, fashion and gaming.

Companies that offer customers an experiential experience with their product or service will definitely have an advantage. The intertwining of physical and digital, reality and fiction is becoming more accessible and widespread. Do you dare to be one of the first to go down this path, or will you do it in a few years when it is inevitable?

If the topics have touched you and made you want to research in this area, contact our expert ales.pevc@tp-lj.si

We are an active community that meets regularly and pushes the boundaries in our minds.
A big thank you to all the sponsors, co-organizers and speakers involved in organizing and running the conference.  
Photos: Milan Lazarević
Partners & Sponsors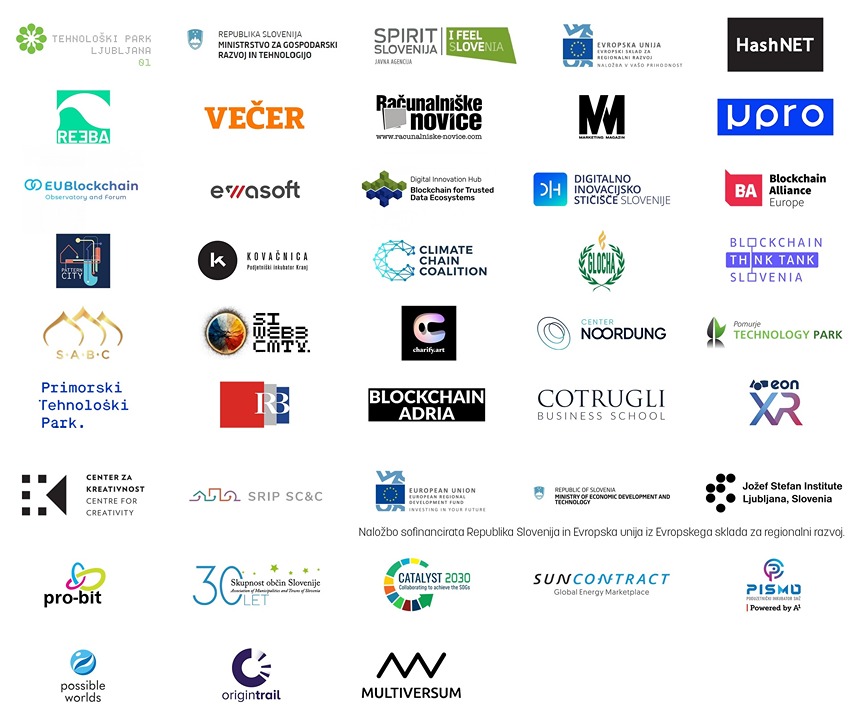 Back