New Blockchain Data Trust DIH
16. 06. 2021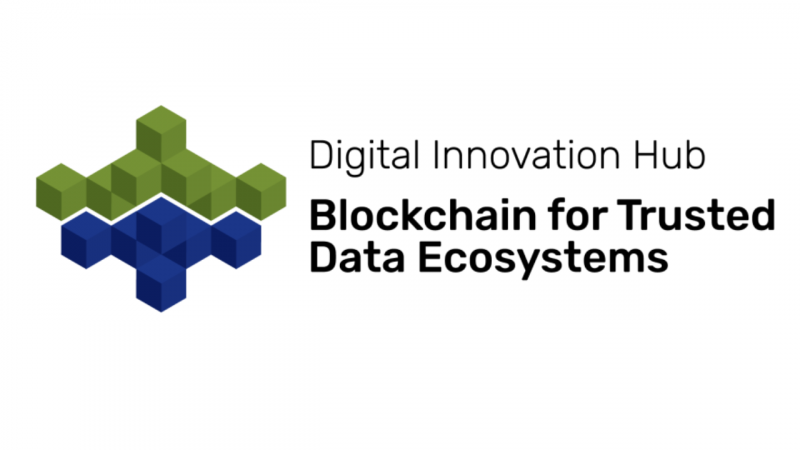 We are pleased to share with you the news of the establishment of the Blockchain Data Trust DIH. The founded DIH is a joint project of the partners Technology Park Ljubljana, Faculty of Computer and Information Sciences of the University of Ljubljana and the company Hashnet, with the support of the Ministry of Economic Development and Technology. The purpose of Blockchain Data Trust DIH is to support, grow and mentor the blockchain community and companies in Slovenia. It is an innovative technology that will significantly change certain processes, both in the private and public sector.
Slovenia is already proven to have potential in the domain of Blockchains with both academic and commercial results, applications, technologies and services. The country is at the very top in terms of openness of public sector data. The Organization for Economic Co - operation and Development (OECD) is in the publication Government at a Glance for 2019 ranked Slovenia at the very top in terms of openness of public sector data. Slovenia is ranked on 10th place in the world or 5th place among EU countries, just behind France, Ireland, Spain and Greece. Also the European Commission is in The Open Data Maturity Report for 2017 and 2018 ranked Slovenia 7th in the report for 2019 on the 10th place among the EU countries in the field of open public data sector.
Today, we witness the convergence of software technologies at an unprecedented pace. This is demonstrated through various advanced Horizon 2020 projects, such as, for example, the European Union - Republic of Korea project DECENTER that integrates technologies from the areas of the Internet of Things, Artificial Intelligence, Edge, Fog and Cloud Computing, Digital Twins and Blockchains. There is a plethora of application domains for these technologies, including, among others, Smart Cities and Communities, Robotic Logistics, Smart Construction and Smart Homes, at the same time, these areas also offer opportunities to connect these technologies using of open data. In addition, there are many areas of application from the gaming and entertainment industry, education, cyber security, and also financial technology systems.
The convergence of the above-mentioned technologies poses new challenges for the handling of transactions in highly dynamic and semantically complex ecosystems that involve heterogeneous resources and actors. Trustworthy data and knowledge management in such ecosystems is essential for the success of any industrial and business application. At a very high level, all smart applications require to address trust, security, safety, performance, dependability, quality of service and other high-level requirements. For some industrial players World-wide it may be obvious already for several years that blockchains as shared ledgers may play a pivotal role in addressing such requirements of smart applications.
Even more so, what it is becoming apparent that what we now need to achieve is that this new technology is shaped in a way that allows the inclusion of valuable achievements of our European history including respect for human rights, security, privacy, diversity and pluralism. All these, sometimes conflicting requirements must be addressed by upcoming Next Generation Internet technologies, and blockchains possess an enormous potential to contribute to these efforts. Great contribution can be achieved by increasing the use of open data from the public sector, which is aimed at connecting with various stakeholders in the information society, such as local governments (smart cities), the economy (data economy), science (open access), education institutions and non-governmental organizations (open innovation).
While on one hand our progress in the domain of Blockchains is very fast, the general software industry on the other hand has no instruments in place to keep pace with these developments. This is where the proposed European Digital Innovation Hub "Blockchain for Trustworthy and Open Data Ecosystems" comes into play. The core group of this EDIH believe there is a significant gap to be fulfilled between the State-of-the-Art in blockchains on one hand, which is already very advanced, and the current state of the broader industry on the other hand, which is in fact at the level of illiteracy, and even misconception. Our Slovenian and European industry still needs the proper transfer of know-how and knowledge in this domain to play an outstanding Global role.
For the reasons listed above, the initiative to establish the Blockchain Data Trust DIH came from several partners to address the challenges together. A specific DIH will cover core Blockchain technologies with particular focus on Cybersecurity, Data and Knowledge Infrastructure, in other words, on Trustworthy Data Ecosystems and at the same time, DIH will also promote synergies with between using the Open Data and blockchain technologies.
Key objectives of the Blockchain and open data DIH in Slovenia have been set as follows: 

Networking among the key players as support for the digital transformation, particularly in the domains of the smart specialization. 
Expert services in blockchains, cybersecurity, data and knowledge infrastructures.
Development of Minimum Viable Products and transfer of technologies to enterprises as many companies currently are not aware of the benefits of trustworthy data management with blockchains.
Introduction of blockchain technologies in industrial and business processes.
The use of blockchain related standards (e.g. protocols) to assure interoperability within the Single Digital Market
Support in the search for investors, such as banks that have interests in the self-sovereign digital identity. 
Transfer of know-how within Slovenia and with European entities. 
Promotional activities, for example, in the context of running national and international projects in which Slovenian and European partners are involved (e.g. ONTOCHAIN, DECENTER projects).
Collaboration with the Government in the definition of a blockchain and open data related regulatory framework. 
Raising competitiveness in the post-quantum areas of blockchains and cybersecurity.
Any other activities that contribute towards the digital transformation (e.g. ensuring higher levels of cybersecurity). 
Organization of various events (conferences, workshops, hackathons and others), in which all stakeholders will participate.
Education and training for users and providers of open data.
For more information on Blockchain Data Trust DIH and the invitation to participate, please visit the website: https://datatrust.fri.uni-lj.si/.
Presentation of the founders of DIH:
Technology Park Ljubljana is the oldest and largest technology park in Slovenia. It is an international technology hub where cutting-edge technologies meet, the best development companies come together and new technological stories are created. It has more than 300 members (companies) that come together in various technology communities. Technology park Ljubljana has established two laboratories. The first is the Smart and Digital Lab, which is dedicated to the development and testing of products in the fields of artificial intelligence, blockchain technologies, smart manufacturing, robotics, rapid prototyping, digital transformation, digital twins and Industry 4.0. The second is the VR / XR lab - an open innovation environment dedicated to the development of products and services in the field of augmented and virtual reality.
The University of Ljubljana, Faculty of Computer and Information Sciences is currently involved in several activities including: (a) Scientific and Technical Coordination of the Next Generation Internet project ONTOCHAIN with 6 Mio. EUR funding in the development of a new software ecosystem for trustworthy, transparent and traceable ontological knowledge management; (b) research partner in the ongoing EU - Korean DECENTER project developing a blockchain-enabled Fog Computing and Brokerage Platform along with partners from Korea such as LG -U+, Seoul National University, Korean Technology Institute and similar, (c) new Erasmus+ ESSA project already focusing on developing new curricula related to blockchains; (d) new university courses incorporating blockchains into teaching activities, e. g. the course Fog Computing for Smart Services, (e) organisation of various international events such as the GECON conference series with events specifically related to Blockchains, (f) the Digital Academy and other activities, (g) various Blockchain testnets used in innovation and teaching activities.

Hashnet is a Slovenian distributed ledger technology infrastructure provider. They have developed Hashnet DLT infrastructure using proof-of-stake with masternodes or proof-of-authority consensus algorithms. The team consists of experienced technology experts, entrepreneurs, product specialists, and operations personnel. Significant infrastructures developed by Hashnet: Tolar Hashnet mainnet - public blockchain network based on the Tolar Hashnet platform, SI -Chain - National Blockchain Testing Infrastructure for the Republic of Slovenia and Tolar Hashnet testnet - experimental public blockchain for testing/piloting new blockchain concepts.

Back