Meet our team: Mojca Cvirn connects resources and content for the development of the digital health community
07. 04. 2020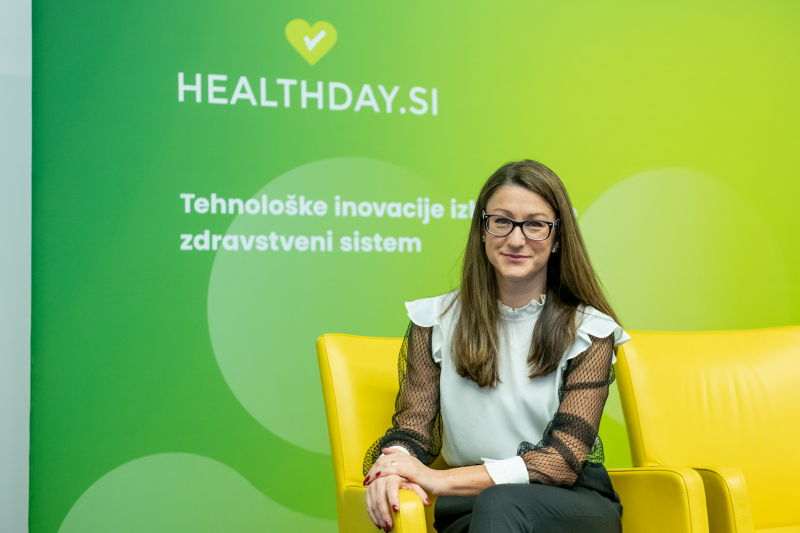 Mojca Cvirn is an expert in raising national and European funds with over 20 years of professional experience and more than 2.5 EUR of raised funds. At the same time, she leads the digital health community Healthday.si with the same zeal, with which she has great ambitions.
Choosing entrepreneurship already in college
She received her Master's degree from the Faculty of Economics and Business Administration in the field of entrepreneurship, she found this area to be the most tangible and useful. Throughout her career she has been guided by concrete results. She combined her studies and work in a great group of younger and older colleagues. They always took their own companies as a model, through which they learned a lot and at the same time were solving a challenges for one of them.
She put her knowledge into practice…
So, she and her friend started their own business where they did many things, including importing and selling toothbrushes. At the same time, she believed that it was important to be active, to learn, to develop and to make important decisions. When the partner moved abroad, the strain also eased, and they decided to close the company.
The beginnings of business consulting
She got a job in the law office of Igor Antauer, which offered legal and business advice to companies. She says that he was the best mentor and they are still in touch today. His support gave her the impetus to start studying. For the first time she met with business consulting and she realized that this field of work was close to her heart and since then she has only been developing and upgrading.
Continuing a career in public administration
When the opportunity presented itself, she continued her journey at Public Entrepreneurship Agency (then PCMG, then JAPTI, now SPIRIT). More than obvious, she was lucky with the mentors in her career as Jaka Vadnjal (then deputy director of JAPTI) gave her real challenges. They worked on the first club of business angels, founded Slevec - an association of venture capitalists in Slovenia, which was a real pioneer at that time (2005). There were also many European projects in the agency and many people with great enthusiasm. Even today there are still people at SPIRIT with a lot of knowledge and energy; progress is seen in their services, especially in the last year.
Marked by European projects
As she says, she is accompanied by European projects practically all the time. Many people see or perceive this as something negative, she calls it "fundraising". Since she came to Technology Park Ljubljana in 2008, she has certainly applied for more than 100 projects, of which at least 30 have been successful. For some time, however, it was considered that about 8% of the "success rate" was very good. Many projects have been obtained, which also means that we are in good consortia, which also represents added value and learning from foreign similar institutions. She is now looking at new tenders, especially Horizon projects. They represent a completely different approach and work, which is why this is a new field of learning even for such an experienced professional like her.
European projects are not just for support institutions. With the help of EU funds, the TPLJ is conducting a detailed market research to design services for companies. The same applies to other companies. Tenders are available that allow them to co-finance the development of products or services. However, these are not the means to solve the financial situation of companies, because the focus on the market may be lost. Sometimes even development companies get complicated and these resources limit them from commercializing products or at least not fast enough.
Due to the business model of the Technology Park Ljubljana and its nature of work, many events, training, networking in these years would certainly not have come about without these funds. The TPLJ is in fact a company that generates its income on the market and is not a public institution.
She combines fundraising with the results of the HealthDay.si community
It is her sense of "fundraising" that she currently uses well and wisely to lead Healthday.si, the digital healthcare community. The community or initiative as such is not yet self-sustaining, so she believes it is crucial to constantly look for external resources. She is driven by the fact that she sees tangible results, also through satisfied entrepreneurs and very detailed practical events that show that companies need them.
"If we look in the light of the crisis with the epidemic, we see that it would be wise to move towards digitalisation. But that does not mean that we are lagging behind. Compared to other European countries, we are a highly digitalized country, especially in the healthcare sector. During this period, however, that stakeholders at all levels recognized the need for the widespread provision of remote healthcare services. The need for effective telemedicine solutions. Today, it would be much easier for the medical staff, especially with the solutions that already exist and have been tested," concludes Mojca.
Digital health community
In the last three years since the NIJZ presented the first e-solutions in Slovenia, Mojca has been actively involved in building the digital health community Healthday.si, which has been growing steadily since 2014. Together with her colleague Gregor Cuzak, coordinator of activities in the community, had presented these solutions to patient associations. Parts of the public react with restraint and mistrust to the introduction of innovations, such as a health e-card or an e-prescription, so it is especially important how innovations are communicated. Mojca is well aware of the need to highlight the benefits of digitalisation and therefore cooperation between the HealthDay.si community and the NIJZ in promoting innovation in the field of e-health ass necessity.
When a community grows beyond itself and begins to climb the ladder
"At the end of 2018, after the annual Healthday Conference, we found that the community is outgrowing itself. The hall was too small. We offered a lot of content and presented a coalition for progress in health care, together with the insurance companies. At the same time, we realized that the company must know how to deal with the regulations, so we presented the 5D 2020 program. We set ourselves an ambitious goal that caused a stir, by the end of this year we want to put 5 digital innovations on the payroll of insurance companies. I hope that we will succeed with at least one of them, because it is a long and complicated procedure" says Mojca positively.
Competence Center
At the heart of the program is the fact that all practical workshops are aimed at a very narrow target group. The added value is that the knowledge is imparted by industry experts. Due to the current situation with Coronavirus, the workshops have been held online this last year with a content upgrade.
"The question arises as to when such a program can be self-sustaining. I have no answer to that question at this moment. We want the platform leader to remain a mature and successful company in the industry. If you have their support, you will have access to their knowledge and contacts. They transfer knowledge and open the door for young start-ups to take the path to commercialization in this challenging sector," says Mojca.
HealthDay is powered by many companies and individuals. Right from the start, the partners are XLAB, Mesi, Better and Technology Park Ljubljana. Members of the Expert Council have also joined to help shape the program and guidelines and select the companies involved in the program. This year, for the first time, companies from abroad interested in our ecosystem also signed up.
All this goes beyond the boundaries of a small community, as many actors are involved. From regulators, companies, insurance companies, doctors, so it would be wise to look for a suitable form such as a competence center.
Community results drives her forward
"What drives me the most is to see tangible results and companies that are satisfied with what we offer them. I have no specific knowledge, I am not a doctor, but I do have a sense of when I connect someone with whom and in what way", Mojca says enthusiastically.
The results should also be visible at home
She says that she is also driven by the results at home. After a better time on the bike to Krvavec or Mangart (laughs). Otherwise she likes to be tidy. For herself, she says that the dazzling rocker wears high heels and her eagerness for rock concerts has not diminished yet. With the difference that she would now take her two children with her. The Muse concert is still on her wish list.
 Author of the interview: Elvisa Basailović
Back