Meet our team: Aleš Pevc is building the XR community with love for technology
12. 03. 2020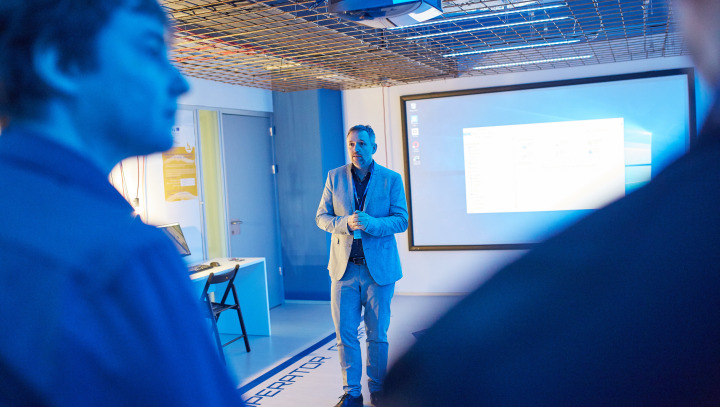 Aleš Pevc, an electrical engineer and head of our Technology team as well as development projects at (TPLJ - Technology Park Ljubljana), has been fascinated by technology since youth.

Over the past year, he has focused on XR community building as he firmly believes in changing the world through virtual and augmented reality, which he says will liberate us and improve our quality of life in many areas. He is preparing a virtual meeting, due to take place at the end of March as the annual conference was canceled due to recent developments. He is also announcing an extended regional Alps-Adriatic XR conference for the autumn.
Where did your enthusiasm for technology come from and when did you get involved?
I studied Electrical Engineering because I believe that the most fascinating inventions are in this field. My greatest inspiration and my greatest idol is Nikola Tesla, the person, who made an enormous amount of incredible inventions that have had a major impact on life today. He, for example, created the three-phase electric motor, experimented with electric cars and made experiments with the wireless transmission of electricity. Everything we take for granted today, such as radio and WI FI, is based on his ideas.
Even then I was already thinking about how we could develop something new to make people's lives easier, because I firmly believe that technology helps people.
The studies themselves have given me many new insights, as I belong to the generation that was the first to get the internet back then (laughs). It was a crazy time. For example, the fax was the main means of communication for document exchange until then, and when we entered the Internet age, the world became a truly global village and a whole new dimension of communication opened up to us.
How do you see the Internet access itself changing the development of the company?
The Internet was seen by many as a tool for institutions. Very soon, however, some enthusiasts began to understand the Internet as a global communication tool that would change the world 100%.
For the first time in history, we found people with similar thinking all over the world. Before that, you had a hard time finding many people in your area for a specific area you specialized in. With the advent of the Internet, we were able to join forces, debate, develop and improve in all areas of life with different people around the world.
With the Internet, the components of co-creation, sharing, coexistence (cocreating, coworking, freelancing) were strongly expressed. Technology has enabled us to work from home or wherever we want. We have completely changed the way we think and work, we definitely have more freedom.
After your studies, you started working as a student at one of the largest telecommunications companies, Iskratel ...
After college, I started working in Iskratel, where we had broadband. It was the internet that made it possible to permanently attach and download large files. That meant I was living five years or more in the future. Well, that doesn't seem like much to us now, but just understanding the possibilities of the technologies and using them meant being a step ahead of others at that time. The same is true today for TPLJ, as we are at least a few years ahead if we look at the construction of our laboratories and the technology developed by the XR community.
Did you soon see entrepreneurial opportunities? How did you make the first steps?
At that time there was nothing commercial on the Internet, we were enthusiastically developing and testing the direction in which the Internet was headed. Then the popular forums, which were the brainchild of Facebook became the first social media.
In the early days of the internet, I developed one of the first websites for personal growth and a healthy lifestyle (Pozitivke.net). I understood the power of the community and the internet to develop good initiatives. For this particular online platform, I also received the prize for the best entrepreneurial idea, which was one of the first competitions in the field of entrepreneurship (in Slovenia?).
Unfortunately, support environment was not as developed then, and there were no investors. The web portal has now become the seventh medium in Slovenia.
I had an online store for organic products back then, a flexible carbon manufacturing company, and some other entrepreneurial ventures, and yes, if I went back to an entrepreneurial journey, I would open more businesses.
The supportive environment that was subsequently created has made it easier for young people who want to become entrepreneurs and significantly improved their chances of survival.
And now you're passing this entrepreneurial knowledge with its ups and downs on to younger generations.
Yes, and with the greatest pleasure. I find it very important to give back to society. By helping younger generations, I'm learning a great deal. Even though I am not very operationally involved, these are all my stories in a sense, and I am very proud of every breakthrough.
Is it a disadvantage that most people have not yet had an entrepreneurial experience in a supportive environment?
What entrepreneurs are looking for is to be found in different phases. One phase, for example, is the search for information about processes in entrepreneurship. These processes can be delivered very well by the support environment because it has a broader insight and clear views. But it is good to learn certain things first-hand from an entrepreneur. Then there are the specialists (lawyers, financiers, marketing experts) who have specific knowledge in certain areas. These phases are complementary, and the prospective entrepreneur receives only comprehensive information from all of them.
What attracted you to your work at Ljubljana Technology Park?
I always wanted to work at Technology Park Ljubljana so that I could combine these entrepreneurial ambitions with some crazy technologies. As I said before, I have always been driven by the desire to create a community where you can give and give. I am such an entrepreneurial romantic. I am proud that together we can contribute to the development of a more entrepreneurial, innovative and technology-oriented Slovenia.
Why were you attracted by the virtual reality around which you have built a community?
Because I believe this is one of the key technologies of the future. We are approaching our wildest dreams of connectivity. Augmented and virtual reality will enable us to look away, not click away. In fact, this interweaving of these worlds is at this point, to speak of pure convergence. It will be several years before these worlds merge perfectly and we will find out what can be achieved with this technology and what benefits we can take advantage of.
I believe that technology will make life much easier, especially with artificial intelligence. We can say that technology has freed us from two aspects. Spatially, there will be no restrictions on movement around the world. At the same time, it will free us from hard work. Technology must support and liberate us in this.
Doubts or negative connotations of artificial intelligence appear. Can it beat us?
As soon as artificial intelligence overcomes our intelligence, which will certainly happen, we will have the challenge of what else we can do. This challenge will be one of the most important challenges of the future, and Technology 5.0 will meet these challenges.
This is also an opportunity to look at technology from a holistic perspective. Humanity is already at this stage. Several measures are already being prepared on how artificial intelligence, robots, and humans might coexist.
What is your opinion on Enterprise 5.0?
In my opinion, it should be incorporated into the development of people's competences. The education system will change so much that it will be incomparable to the current one. I envision the future through a narrow specialization of people with technological support.
What will change everything? What are the key areas that digitization will affect?
Everything. We're just at the beginning of this process. Technology will evolve so that we will be able to free ourselves and ascend to another level. Political systems will improve, wars will no longer be necessary. All this will be a thing of the past. Of course, we do not have a clear view of the future, so I think the company is looking into these issues.
Let's get back to XR engineering. Where does it lead?
Like what I perceived in Iskratel as the development of the future, I experience today in the field of augmented and virtual reality. The technology itself will enable us to free ourselves from various devices, we will free ourselves from physical attachment to space, then we will all be mapped in one space.
Important changes will take place in education and it is difficult to imagine them at this stage. When they become part of the XR curriculum the system will change so much that children really won't be able to wait to learn. We will be able to give back the basic natural learning to children, the one they have learned by trial and error from an early age. When children can see, hear and move some unimaginable phenomena, knowledge will reach a "higher" level when they can remember the substance more easily.
XR technology will no longer limit us to devices and will eventually be wearable like a lens. Web access will be possible without separate, cumbersome devices. These devices are already experimentally available and will soon become a reality.
There is also a big leap forward in e-Health, where TPLJ is also building a strong pillar with the Healthday.si initiative. I see many opportunities to combine these two segments, placing TPLJ alongside real science parks and centers around the world. Recently, Forbes announced the trends in augmented reality, and e-health is one of them.
There is great potential for virtual reality in the field of tourism. Experiences will become much more authentic through Augmented Reality. In Slovenia, the initiative "Tourism for all" is already running for people who for various reasons cannot travel, but through augmented reality, they can.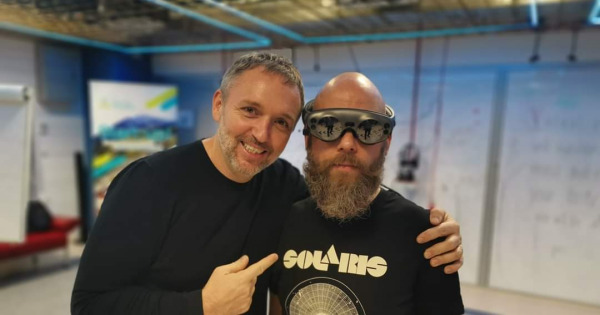 Aleš Pevc and Marko Cafnik, tThe leader of the Facebook community XR Slovenia
What are the goals of TPLJ with respect to the XR community?
We have just begun to develop the community well. We support each other and help each other. The mere fact that these are groundbreaking beginnings gives me power for the building of the community. Even if we do not know everything yet, we are all members of the ecosystem.
The aim is to continue to make companies more aware of the use of technology and to train experts to pass on the knowledge. As the community grows, I expect it to develop into an official formation, such as a chamber representing the interests of its members, rules, standards, etc.
Where does Slovenia stand in relation to other European countries with XR solutions?
Slovenia is not far behind the solutions it has abroad. However, it is true that subscribers do not yet know exactly what they need and what the benefits of the XR technology are. The fact is, however, that companies are becoming increasingly aware of their potential and are looking for opportunities rather than investing a lot of money. The exception is tourism, which is well aware of its potential.
That XR Alpe Adria Conference is a promise. What will be different from the premiere we saw last March?
Last year's XR conference exceeded our expectations. This reaction from various enthusiasts, researchers, innovators, and companies cannot be ignored. This is why we have naturally expanded and upgraded the content this year, as interest is growing day by day. We want to integrate the region, so we have moved into the Alps Adria room to raise the level of the conference and bring in top speakers and experts from abroad. The conference will focus on presentations of the achievements of regional companies and various discussions on the future of technology, including those related to Enterprise 5.0.
On the second day, there will be content workshops, which will be the beginning of the academy we are planning at XR.
The conference was planned for the end of March, but due to unforeseen reasons for the global virus epidemic, it will take place in autumn. However, a virtual conference will be held in March, where we will demonstrate that almost anything is possible in the XR region right now. Of course, the use of XR platforms is a great advantage, especially now that most people are working from home.
How much has the XR Fellowship grown since last year?
The interest grows from day to day. It really helped that the church had its own room where we organized some community events during this time. The community itself has grown by more than 50% on Facebook, partly since technology is evolving day by day and becoming affordable for more and more people.
Besides the development of the community itself, I am very proud of the result of an EU project where we have shown our results through virtual reality. Using virtual reality, we have shown the process from the preparation of molecules in the laboratory to the production of the corresponding drug. We were very impressed by our Italian partner, and we were also invited to the XR fair in Italy.
What else inspires you on your journey? What else do you want to achieve?
5.0 is a development phase in which our company will play an important role. If anyone has insight into the technology and the needs of the community, it is undoubtedly TPLJ. I also see a much broader role for the Park as a leading player in promoting entrepreneurship, developing technologies and integrating them into society.
What motivates you outside Technology Park Ljubljana the park?
A better world is my motivation. If possible, with the eyes of new technology. Personal reading and cooking. It is true, however, that I longingly wait for the lens so that I can read the recipe and cook at the same time and hence no longer need a phone. 
Avtorica: Elvisa Basailović 
Back