HealthDay.si Conference 2021: "Biotech Meets Digital"
22. 11. 2021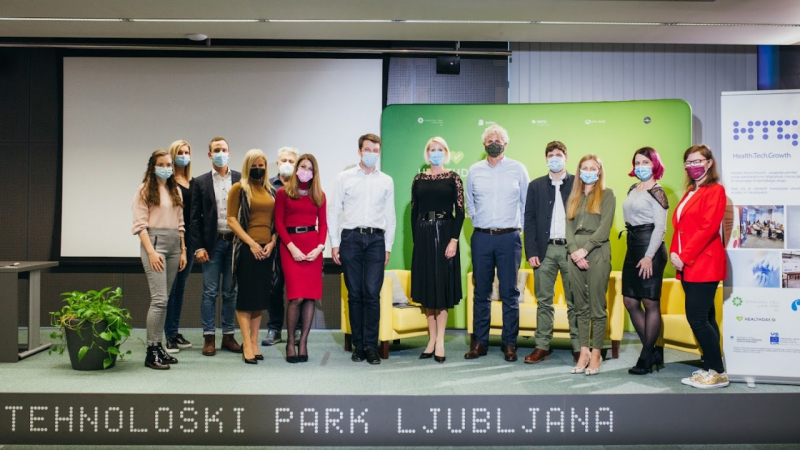 At HealthDay.si 2021 conference entitled "Biotech Meets Digital", which took place on Thursday, November 18, 2021, we focused on the intertwining of biotechnology and data analytics, for the benefit of all of us - the patients. The online event was attended by more than 200 participants from Slovenia and abroad, renowned international experts, and leading representatives of companies in the digital and biotechnology spheres.
The conference brought together all the important stakeholders in the digital health and biotechnology ecosystem: international startup and scaleup companies, physicians, researchers, patient representatives, and policymakers.
The participants were greeted with an introductory speech by prof. dr. Gregor Majdič, Rector of the University of Ljubljana, emphasized the importance of digitalization and its impact on everyday life.
He was followed by a welcome address by dr. Tomaž Kostanjevec, CEO of SPIRIT Slovenia, with a presentation of projects that support digitization.
Maja Tomanič Vidovič, CEO of the Slovene Enterprise Fund, reminded the conference participants how, especially in the past two years of the epidemic, innovations have become important, especially in the field of medicine.
Introductory speeches were concluded by dr. Jernej Pintar, CEO of the Technology Park Ljubljana, emphasized the importance of the conference, especially in terms of connecting all members of the ecosystem.
The first part of the conference: Biotechnology around the world
What is the potential of synthetic biology in medicine, the question of the ethics of gene therapy, what are the benefits of using real-world data (RWD) for patients and how will DNA testing become a self-evident part of patient diagnosis?
Prof. dr. Roman Jerala, Head of the Department of Synthetic Biology and Immunology at the National Institute of Chemistry, presented the potential of synthetic biology in biomedicine, which enables new approaches to medical treatments, such as with the development of synthetic gene switches for immunotherapy of cancer.
Ethical concerns were addressed by Katherine Littler of the World Health Organization. She focused on the relationship between ethics, management, and the development of global genetic regulation standards. There are many ethical issues regarding emerging technologies, especially in gene therapies. "It is important to set standards and define governance - a framework that will include tools, institutions, and processes to manage the regulation of the human genome editing, and only then will we reap the benefits of new technologies."
Special guest, dr. Thanh G.N. Ton, a leading real-world data scientist at Genentech - Roche, highlighted how digitization can help us harness the power of real-world data and how it affects research, development, and the effectiveness of clinical trials in the pharmaceutical industry.
Did you know that one in ten children carries a gene mutation that can cause disease? Dr. Ana Catarina Gomes from the startup CBR Genomics introduced us to their unique DNA screening platform. CBR Genomics offers neonatal genetic material analysis, which allows the detection of genetic conditions even before the symptoms appear.
In the first 9 months of 2021 alone, more than $ 23 billion was invested in medical startups
The conference hosted Magdalena Przelaskowska from Google for Startups, who connects startups with individuals, products, and best practices, enabling them to grow and develop. One of the acceleration programs in Europe is also aimed at start-ups working in the field of health and well-being. "The last two years have shown how important our health and well-being are, so at Google, we believe that startups can improve the current situation and even the healthcare system," she said. Their acceleration program currently includes 15 European startups from 11 countries, including MESI Medical from Slovenia.
From promising Slovenian startup companies to international champions in the field of biotechnology and digital
The conference hosted Slovenian companies that prove that Slovenia can compete with global corporations in the fields of digital health and biotechnology.
Dr. Aleš Štrancar, founder and CEO of BIA Separations - Sartorius, is convinced that to provide top solutions on the global market, top knowledge is needed.
The Labena family business is another example of a determined company in the field of biotechnology and, as CEO Borut Čeh said, they want to create a kind of Google environment for biotech and their emphasis on employees' projects proves that they are on the right track.
Another story was presented by dr. David Dobnik from NIBA Labs, one of the few biotechnology companies that focus on quantifying and analyzing viral vector genomes and impurities. NIBA Labs was also tightly involved as a partner in the development of gene therapy for SMA.
Institute of Oncology is setting new milestones in the treatment of cancer patients. Dr. Gregor Serša presented the SmartGene.si project - the first approved gene therapy clinical trial for the treatment of cancer in Slovenia.
Data shows that 54% of scientific studies cannot be re-verified, 17% of data is lost every year and the amount of scientific data is doubled every three years. Dr. Klemen Zupančič, the co-founder of Biosistemika, presented their spin-off company SciNote, which develops software solutions for laboratories. Many scientists in this field believe that the processes and development will be improved by artificial intelligence.
Dr. Tine Porenta from Lek Sandoz - Novartis shared an advanced data analytics approach in drug development, which helps to narrow the selection to the most promising drug candidates, which can pass clinical trials and obtain regulatory approval.
Panel Discussion: Innovative Financing and Tax Environment
Interest in biotechnology companies is growing and investments in biotechnology businesses in 2020 and 2021 are impressive. As we heard at this panel discussion, it would be good for Slovenia to determine its focus and find a niche biotechnology sector in which to become the best.
"Biotechnology is a broad field and we cannot cover everything, so it is crucial to find a focus area and provide companies with the right support environment in the form of legislation, governance, financial incentives. Only this way we can come together to become the best in a particular part of biotechnology," said dr. Enej Kuščer, Acies Bio.
We do all this for the benefit of our number one, the patients!
In recent years, there has been a real renaissance in the field of gene and cell therapy and the first therapies have changed the lives of many patients. Kristina Modic from The Slovenian Association of Patients with Lymphoma and Leukemia presented a successful fundraising campaign for the purchase of a CAR-T device for advanced cancer treatment. The campaign brought together a total of more than 3750 individuals and 250 companies, achieved its goal, and more. With the funds raised, as many as two devices were purchased and the campaign also achieved the full support of the CAR-T project by the Slovenian healthcare system. Kristina Modic was together with prof. dr. Samo Zver was awarded the European Citizen's Award 2021.
Špela Miroševič, mother to a child with a rare genetic syndrome CTNNB1 shared her story. "Fortunately, I live in a country with excellent researchers who are extremely motivated and persistent to help pediatric patients," she said.
Petra Simpson Grom, Coronary Club Ljubljana, introduced us to an interdisciplinary approach to the rehabilitation of patients with heart failure. She has formed an interdisciplinary care team to provide and implement a rehabilitation plan that is tailored to patients' needs and can have a significant impact on patients' quality of life. The culmination of Petra's success is in the virtual version of rehabilitation introduced during the pandemic.
Grand Round Table - At the Crossroads of Biotechnology and Digitalization
The final round table moderated by Petra Juvančič, CEO of the Managers' Association of Slovenia, addressed whether Slovenia can become a world-renowned region with an ecosystem for the establishment of biotechnology, life sciences, and digital technology and thus improve the lives of patients at home and around the world. Opinions and aspects were shared by Mateja Urlep, CEO of NIBA Labs and president of Think Tank HealthDay.si, Nicole Arming, CEO of Roche Slovenia, Klod Kolaro, General Manager of Endava Slovenia and Dr. Lenart Girandon, CEO-elect of Educell.
Perseverance, passion, and courage are, in addition to knowledge, a recipe for success in biotechnology. Nicole Arming pointed out that we are at the crossroads of science, where the interweaving of technologies, such as data science, data analysis, and alike, is taking place in healthcare. All of this will allow us to not only improve healthcare but also personalize treatment in a more sustainable way.
The question of an enormous amount of data in healthcare and how to use it in treatment was entrusted to Klod Kolaro. The amount of data doubles every year and patient data are scattered across different institutions. Endava is completing a project to organize data into a comprehensive electronic health record, which will enable physicians to easily review patient data.
What are the reasons that Educell, which deals with cell therapies and new methods of treatment, has become the leading company in Slovenia and in the world? Dr. Lenart Girandon cited two key reasons: certainly, dedicated people who do their work with passion and are motivated by the difficult stories of patients.
At the round table, we also discussed ethics in the processing of personal health data, which is crucial in personalized medicine. Regulators are the ones who must take care of data protection. Conservatism is the one that inhibits development at the moment, which would help in the advancement of medicine. Personalized medicine brings many benefits, but the development of gene therapies is expensive.
Dr. Lenart Girandon stressed the importance of focusing and finding priorities. Nicole Arming pointed out that we need to look more broadly, not just at cost, but at all the benefits of personalized medicine for patients. Mateja Urlep agreed that it is necessary to set the right focus on the country level, financing incentives, and investments in biotechnology, which are currently nonexistent.
At the end of the round table, the guests agreed that Slovenia has a lot of talent and if companies are really focused and have a clear goal, they can and will succeed at the global level. 
The conference was moderated by mag. Mojca Cvirn, Head of Marketing and Training at SRC Infonet, is the leading provider of solutions for the digitalization of healthcare in Slovenia.
Once again, thank you to all the partners of HealthDay.si and HealthDay.si 2021 conference co-organizers. Without you, the conference wouldn't be the same.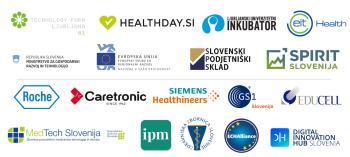 Back