BLUE BIO MED launches its Mediterranean Innovation Alliance for sustainable blue economy
26. 11. 2021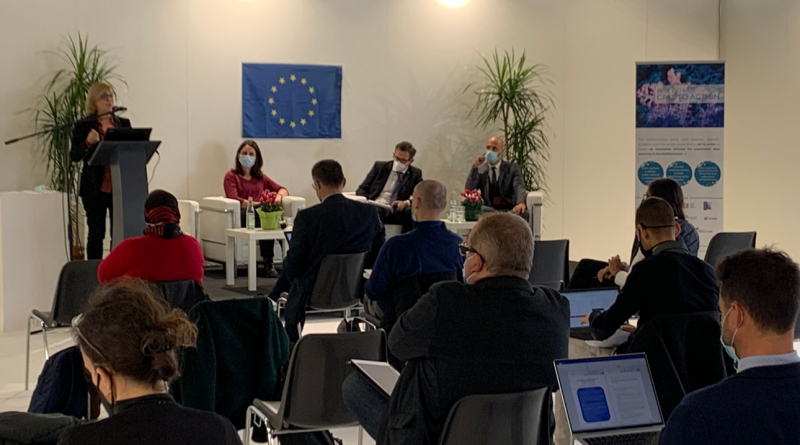 On 18-19 November 2021, we took a part in the Blue Bioeconomy Innovation Forum at SEALOGY (European Blue Economy exhibition) in Ferrara, Italy as partners of the BLUE BIO MED project.
The event brought together policymakers, innovation actors, stakeholders' associations, business support organisations (innovation and sectoral agencies, etc.) operating both at territorial (regional/national) and transnational levels. It attracted over 50 participants on-site and many more online through remote connection. Participants had the opportunity to listen to and interact with representatives of Mediterranean transnational organisations and strategies, as well as European institutions responsible for innovation policies and programmes relevant to the Mediterranean blue bioeconomy. At the same time, representatives of Euro-Mediterranean institutions had the opportunity to learn about territorial initiatives, needs and ambitions.
Three main objectives were met on this occasion:
To launch the MED Innovation Alliance for blue bioeconomy 
To gather Mediterranean stakeholders from the quadruple helix involved in blue bioeconomy  

To promote connections between European and Mediterranean transnational initiatives with territorial policy-making and grassroots innovation actors 
The Forum was divided into three sessions spread over the two days.
The first one focused on "Innovation and sustainable Blue Bioeconomy: opportunities and room for truly transformative policies". Representatives from key EU institutions, projects and initiatives (namely PANORAMED, BLUE BIO MED, B-BLUE, Blue Growth Community, DG MARE, Interreg MED Joint Secretariat, Joint Research Centre, Italian National Research Council-CNR, Ocean Mission Board) discussed what are the main upcoming opportunities for innovation activities across boundaries and how can Mediterranean stakeholders be informed and get ready to catch them and contribute to sustainable blue economy?
The second session "Co-designing the Mediterranean Innovation Alliance for sustainable Blue Economy: a journey to make together" consisted in officially setting up the Alliance and starting to reflect on its role, structure and initial actions. It was open to a reduced number of participants including founding members of the Alliance and other institutions willing to join the Alliance including BLUE BIO MED and B-BLUE partners, PANORAMED, the Union for the Mediterranean, EUSAIR, BLUEMED, WestMED, among others. Participants were invited to share ideas on potential key actions for the startup phase of the Innovation Alliance, namely around knowledge exchange and transfer, innovation project ideation and brokerage, through an interactive exercise.
The third and last session "BLUE BIO MED Institutional Conference: the Mediterranean Innovation Alliance for the Green Blue Deal" gathered several key actors of the blue economy in the Mediterranean, including key Euro-Mediterranean institutions (Union for the Mediterranean, WestMED, BLUEMED, Interreg ADRION) as well as a variety of territorial actors (i.e. regional authorities, research centres, sectoral agencies, ministries). It intended to officially launch the Alliance and bridge the transnational – European and Mediterranean – and the territorial – regional and national – perspective in innovation policy making.
Back