BicyLift is the winning innovative solution of the Ljubljana Smart Pedal Pitch 2022 competition!
16. 06. 2022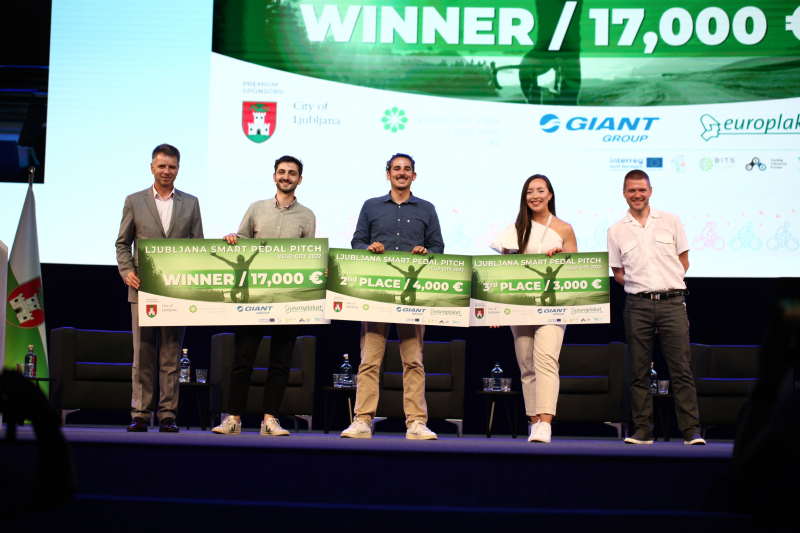 The competition for innovative ideas to improve the cycling ecosystem in Ljubljana Smart Pedal Pitch 2022 has come to an end. The solution BicyLift, which yesterday convinced the jury to place it among the top three, today also convinced the participants of the

Velo-city conference

, who voted via app. The winner received prize money of 17,000 euros gross and will be able to implement his idea in the real environment of the streets of Ljubljana. The winning checks were presented to all three finalists by the Deputy Mayor of the City of Ljubljana, Dejan Crnek.
The first place went to the BicyLift solution from France.
It is a compact and agile bike trailer for an all-time performance in congested urban areas. BicyLift can easily transport up to 200kg safely thanks to its integrated overrun braking system.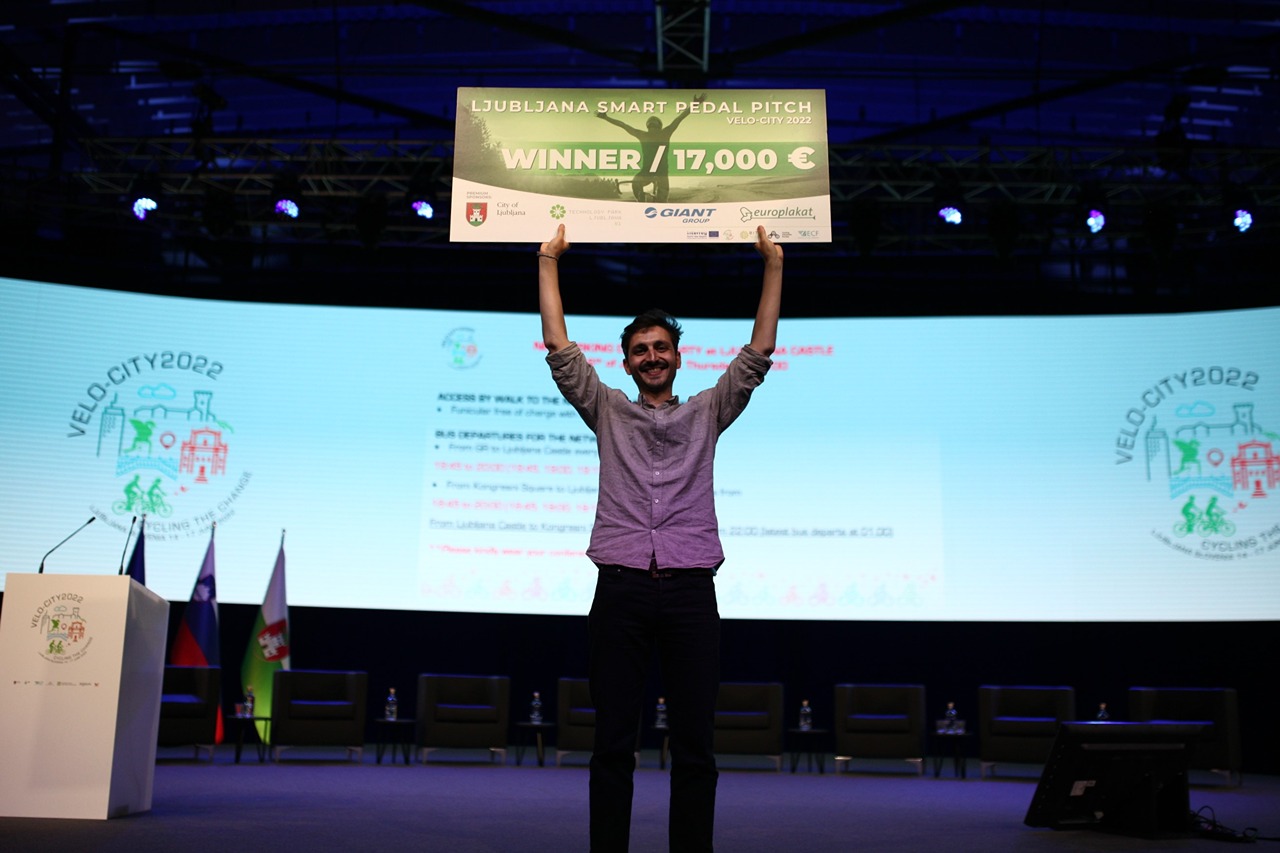 Second place went to the ZICLA from Spain.
The system allows the assembly of platforms that improve urban accessibility in general, and accessibility at bus stops in particular. They are also made with post-consumer and post-industrial plastic waste. Plastic modules provide an additional sidewalk at bus stops, preventing bus line passengers from riding directly into the bike lane.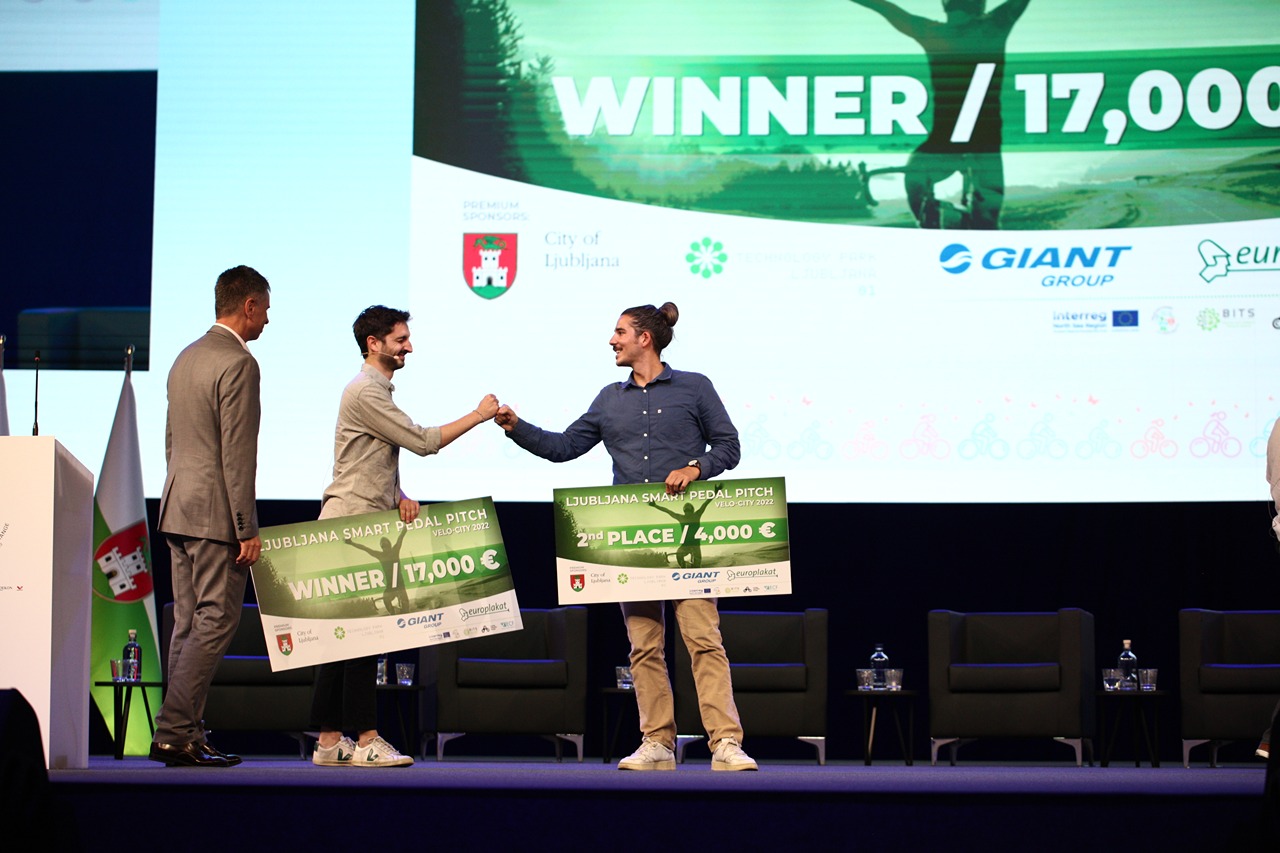 Third place went to the PeachyKeen solution from the United Kingdom.
The PeachyKeen Power Pedal is an LED light up pedal, designed and manufactured in the UK, using completely recyclable components. The pedals provide 360 visibility that can be seen up to 1km away, especially useful at traffic lights and junctions being able to keep flashing when stopped for up to 7 minutes distances.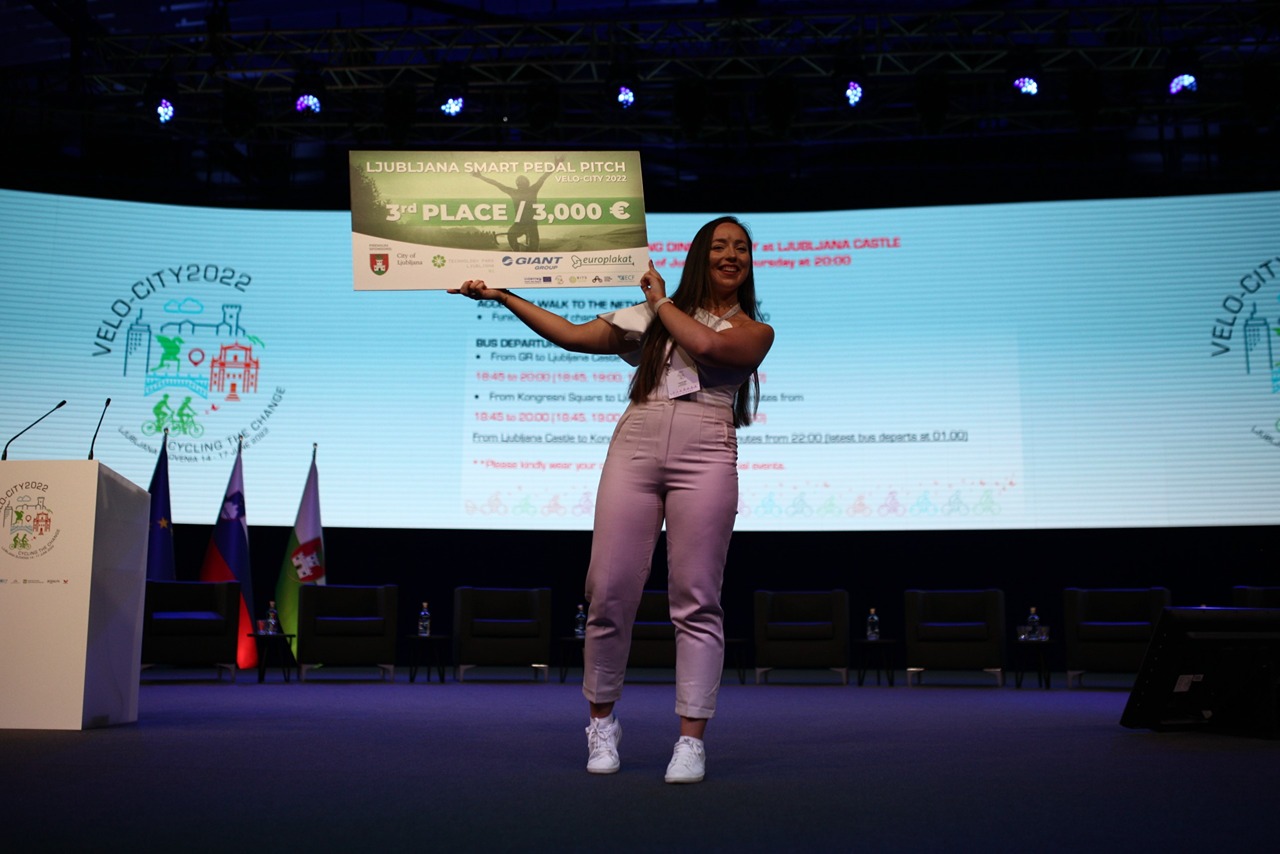 From 32 applications, the three best were shortlisted for Ljubljana
The expert committee, consisting of Tony Grimaldi, President of Cycling Industries Europe; Henk Swarttouw, President of the European Cycling Union; Matic Sopotnik, Program Director of Velo-city 2022; and Uršula Longar, Head of Transport Department of the City of Ljubljana, had the difficult task of selecting the best three from the ten semi-finalists.
 
When they summarized their thoughts on the selected finalists, they were excited about BicyLift, which is a great solution for a city like Ljubljana, as it has a closed area for traffic and really offers the best solution for delivery to the final destination/customer. PeachyKeen convinced them as it offers a simple, practical and at the same time charming solution for the safety of cyclists, especially younger ones, using illuminated pedals that save batteries and can be fully recycled. Zicla is a great solution not only for permanent but also for occasional road solutions. It offers a flexible, modular system that interlocks different modes of transport on the road.

The Smart Pedal Pitch 2022 competition was organized by Technology Park Ljubljana together with the City of Ljubljana and in collaboration with the  European Cyclists' Federation (ECF), Cycling Industries Europe (CIE) and other local partners.


Back