Announcement of the 10 semi-finalists of the Ljubljana Smart Pedal Pitch 2022!
10. 06. 2022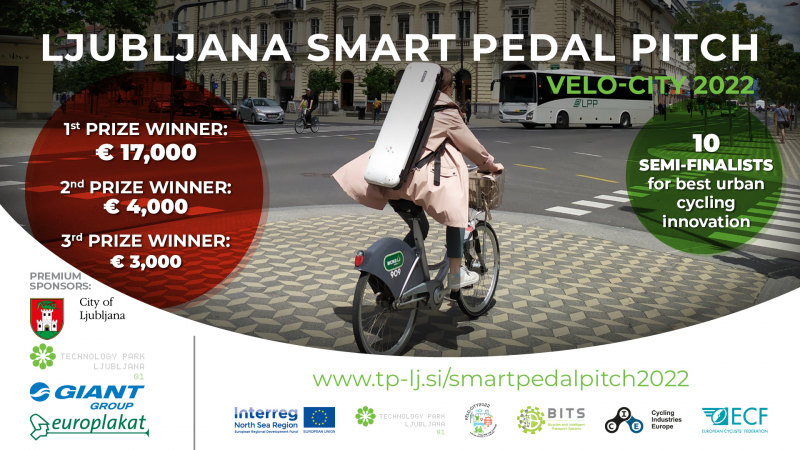 The long-awaited 10 semi-finalists of the competition for innovative ideas to improve the cycling ecosystem in Ljubljana - Ljubljana Smart Pedal Pitch 2022 - have been announced! The competition is organized by Ljubljana Technology Park together with the City of Ljubljana and other partners. The selection jury did not have an easy time choosing the best 10, as we received 32 applications from all over Europe and beyond, including 6 applicants from Slovenia. With this result, we exceeded the number of last year's entries in the same competition in the city of Lisbon.
Ten selected ideas will be presented live to a local and international audience in the semi-finals at the largest cycling conference Velo-city 2022 in Ljubljana on June 15. The top three ideas will qualify for the finals the next day and compete for high prizes, both financial and in the form of advertising space, media exposure and participation in the Velo-city conference. The winner will receive a prize money of 17,000 EUR gross and will have the chance to implement their idea in the real environment of the streets of Ljubljana.
We present to you 10 selected semi-final ideas:
BicycleGo (Hong Kong/Slovenia)

This is a mobile app that is a digital wallet. As you ride your bike around town, you collect digital coins that can be redeemed in the form of vouchers at cafes, restaurants, museums, and other local vendors. The idea aims to promote cycling and connect local vendors.

BicyLift / Runner (France)

This is a bicycle delivery truck for larger loads. The specialized bicycle has a trailer with a lifting system that can be used to load a pallet with cargo and deliver it to hard-to-reach places in the city.(www.fleximodal.fr).

Block Bike Racks (Hungary)

This is an individual, stand-alone parking space/lock that allows elegant and convenient parking of bicycles in a practical holder (blockcity.tech).

Flare (Slovenia)

This is a tracking device that can be installed in the handlebars of the bicycle and is connected to a mobile application that can be used to determine the location of the bicycle. It is very useful in case of theft or if you simply forgot where you left your bike (getflare.eu).

Happy City (Norway)

Happy City® is own developed patented parking solution for micromobility vehicles, that will ensure correct parking with centimeter presision. The system is not GPS based, but using the exhisting Bluetooht in the wehicles to determine the posission. Having an easy instal parking system makes the sharing micromiblity works and attractive. Happy City® does not reqiuiere any racks or any other kind of instalation on the ground. The rental trip can only be ended on Happy City® parking spots in the prefered rental company app (www.sparkpark.no).

PeachyKeen (United Kingdom)

This is an illuminated bicycle pedal made from recycled materials. The pedal is charged with a dynamo system (1 minute of cycling is enough for 7 minutes of light) and emits a powerful flashing light that increases the cyclist's visibility on long distances (peachykeen.co.uk).

StreeT Systems (United Kingdom)

This is an artificial intelligence-based traffic control camera designed primarily for the blind and visually impaired. The Buzzer camera automatically detects the movement of bicycles at road intersections and beeps to warn of an oncoming bicycle. This enables blind and visually impaired people to cross the road safely (streets.systems).

Unlock2Ride (Slovenia)

This is a smart lock connected to an application that allows identification of the bike location and any movement of the bike (https://www.youtube.com/watch?v=uFPJT0o-img).

UpAndBike (Spain)

This is a high-tech urban bike room located above the sidewalk or any other suitable space. Bicycles are stored and transferred to the user with an elevator (https://www.youtube.com/watch?v=UrD-zGT03mI)

ZICLA (Spain)

This is a solution for greater safety at intersections between bike lanes and municipal bus stops. Plastic modules form an additional walkway at bus stops, preventing bus passengers from stepping directly onto the bike path (www.zicla.com/en).
You will be able to vote for the winners at the Velo-city conference!
Choose your favorite solution and attend the Velo-city conference on June 16th at Ljubljana Exhibition and Convention Centre, where you will be able to vote for the winner, who will have the opportunity to implement his solution in a real environment.
Smart Pedal Pitch 2022 is organized by Technology Park Ljubljana and City of Ljubljana in cooperation with the European Cyclists' Federation (ECF), Cycling Industries Europe (CIE) and other local partners.


Back