SMART-SPACE Project - Smart manufacturing for Alpine Space SME´s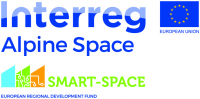 Project date: 01. 11. 2016 - 31. 10. 2019
Webpage:
http://www.alpine-space.eu/projects/smart-space/en/home
Contact: Aleš Pevc
Phone: +386 (0)1 620 3 490
E-mail: ales.pevc@tp-lj.si
The EU manufacturing sector, apart from financial services, is the second-largest sector in terms of employees & turnover and the first contributor to non-financial business economy.
Exports consist mainly of manufactured products. This sector plays an essential role in the innovation chain because is RD&I-intensive activity.
Nowadays, lack of automation, synergies and obsolete management systems cause loss of competitiveness with respect to emerging markets. In order to meet the challenge of producing future products and meeting emerging social needs and megatrends also in the alpine space (AS), the contribution of digital technologies is crucial.
Owing to their impact (often with disruptive consequences) on many sectors of the economy and the services, digital technologies(DT) are changing the world of industrial production with the so-called Fourth Industrial Revolution.
This affects the whole manufacturing value chain, i.e. production, logistics, assistance, quality and safety, especially for the AS industry, where these approaches need to be strongly adapted to the specificity of the Alpine area.
In return, smart manufacturing technologies can help industries to be much more connected and able to connect their own assets (physical, human resources, information and internal and external data) gaining in competitiveness, productivity and safety.
SMART-SPACE project intends to strengthen the cooperation within the system of innovation to promote smart digital solutions to traditional industrial sectors according to PPs' S3.
SMART-SPACE will identify an Alpine Smart Manufacturing strategy, able to combine Alpine social & economic challenges, geographical and industrial peculiarities, environmental sustainability and entrepreneurship.
An Alpine Strategic partnership will be set up to implement a common action plan to be supported by a Digital Innovation Hub, a competence center to assist all innovation actors to trigger Alpine growth and wellness.  
Total budget: 2.024.637,83 EUR. 
Read the PRESS RELEASE #1 and PRESS RELEASE #2.
Back