Reflections from the conference in Ljubljana
26. 11. 2018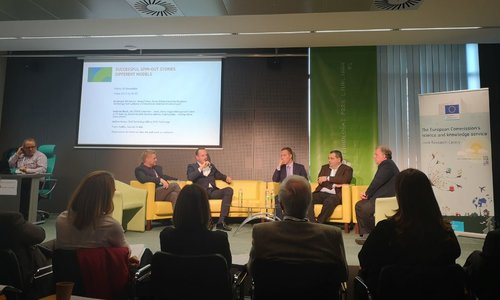 Scale(Up)Alps Project was presented on international conference on Start-Ups in Innovation Ecosystem in South-East Europe Workshop in Ljubljana.
Start-Ups in Innovation Ecosystem in South-East Europe workshop was held in Ljubljana on 15 and 16 November 2018. It was organised by the Joint Research Centre, the European Commission's science and knowledge service, in collaboration with the Technology Park Ljubljana. The event aimed to provide policy makers and innovation practitioners with knowledge and training/practical insights in setting up successful start-up platforms with support programmes strengthening regional/national innovation ecosystems. Participants had the opportunity to discuss key elements in the development of successful innovation ecosystem such as: building a pipeline of projects, attracting industrial partners, providing business support services, involving governmental entities.
Umberto Bondi from Università della Svizzera Italiana, one of the partners in Interreg Alpine Space project Scale(Up)Alps, presented the project and the opportunities it is bringing to scale-up companies of the Alpine Space. He particularly stressed out the challenges scale-up companies face and the need for design of custom-made programs to support their continued growth and access to talents and new employees.
Back