STAR GROWTH: Sustainable Tools & Activities for rural Tourism and Ecotourism SME's Growth Smart system development for nanobubble technology to improve the food production ecosystem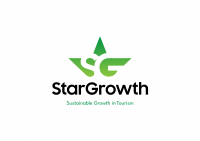 Project date: 01. 01. 2023 - 31. 12. 2025 at 23:59
Webpage:
https://stargrowth.eu/
Contact: Monika Cvetkov
E-mail: monika.cvetkov@tp-lj.si
TPLJ is involved into consortium the sustainable growth of SMEs operating in the rural tourism and ecotourism sectors in Greece, Cyprus, Bulgaria, Slovenia, Romania and Italy by providing technical and financial support, whilst boosting their awareness, development and capacity in the area of sustainable innovations.
TPLJ will cooperate with DIH Healthday.si in the promotion of the natural nanobubble treatment of clean and enriched water for healthy food chains and the environment developed by company Waboost.
Specific objectives:
Supporting 90 rural tourism and ecotourism SMEs in Greece, Cyprus, Bulgaria, Slovenia, Romania and Italy in developing their skills and capacities in sustainable tourism, whilst creating sustainability strategies in line with the needs and priorities of their territory;
Providing capacity building and technical assistance to the selected SMEs, by applying European sustainability frameworks and tools (such as Environmental footprint methods, EMAS, EU Ecolabel, ISO 14001:2015, CSR, HCMI etc.);
Fostering innovative practices and solutions, which can provide business destinations with heightened resilience to shocks, enhanced social, economic and environmental awareness and responsibility;
Building effective mechanisms for best practice exchange and dissemination of transferable tools and knowledge between the SMEs, also at a European level.
Highlights:
Financial support for tourism SMEs
Customized technical support activities for SMEs
Training programme on sustainable tourism growth
Evaluation of support scheme achievements
Star Growth podcast series
Compendiums of good practices for destination managers and for rural tourism and ecotourism SMEs
Partners:
Total budget: 1 258 188.39 EUR


Back