OIS-AIR: Establishment of the Open Innovation System of the Adriatic-Ionian Region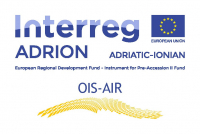 Project date: 01. 01. 2018 - 31. 12. 2020
Contact: Peter Medica
Phone: 00386 (01) 620 3 474
E-mail: peter.medica@tp-lj.si
By definition Open innovation is a paradigm assuming that companies can & should use external ideas as well as internal ideas and internal & external paths to market as they look to advance their technology (H. Chesbrough, 2006).
OIS-AIR project pursues the strategic objective of stablishing and developing the Open Innovation System of the Adriatic-Ionian Region, competitive and attractive at regional and transnational level. To do so, the project intends to consolidate and strengthen the development of industrial and entrepreneurial activities through cooperation of all quadruple helix actors, from researches to policy makers.
As partners in OIS-AIR we have to ability to develop an approach on how to install open innovation in Adriatic-Ionic region. Such strategy and approach is in line with the Slovenia's S4 Strategy and to form long-lasting connections with stakeholders at national and transnational level.
Main project objectives:
The project's activities will focus on:
development of a pilot S3 strategy for Adriatic-Ionian Region with an action plan to connect the whole macro-region.
Development of Open Innovation system for the Adriatic-Ionian Region by establishing a platform for SME and intuitions to collaborate on.
Establishment and operation of Innovation HUB in the Adriatic-Ionian Region, along with innovation projects and support from research institutions to implement new interactive approaches in connecting key stakeholders.
Main project outputs:
Partners will work towards:
establishing OIS-AIR HUB and Network of partners,
establishing 7 Innovation centres,
organising panels with policy makers,
carrying the transnational valorization call,
granting 10 innovation vouchers supporting research-driven innovation projects.
Project partners:
AREA Science Park, IT
Technology Park Ljubljana, SLO
Croatian Chamber of Economy, CRO
Science and Technology Park Belgrade, SRB
Centre for Research and Technology – Hellas, GR
University of Basilicata, IT
Ministry of Finance of Albania, AL
Back