Danube Transnational Programme ACCELERATOR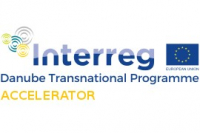 Project date: 01. 01. 2017 - 30. 06. 2019
Innovative SMEs in all participating regions of ACCELERATOR are hindered by access to equity particularly in their early stage development. Thus ACCELERATOR engages in exploring and piloting the innovative path of acceleration programmes towards improved business support in the Danube region. ACCELERATOR'S main objective is to enhance access to innovation finance through improving the institutional framework conditions and related policy instruments by developing the practical solution of acceleration services and influencing the concerned strategic framework at partner's regions and programme level.
Target groups are:
- SMEs in need of capital but lacking skills to acquire it,
- business support organisations at which new and improved acceleration services will be bedded
- financing institutions in regional innovation ecosystems
- the public sector is highly relevant due to increasing attention to equity programmes from ESIF sources.

ACCELERATOR results in introduced acceleration programmes at less experienced partners and improved acc. programmes at experienced partners. This embodies ACCELERATOR's expected change defined as higher number and better acc. services. The partnership actively integrates public bodies to channel joint policy recommendations on facilitating the spread of acceleration services and works out a joint strategy on the promotion of acceleration services and on their integration in ESIF measures in the Danube region.
Total budget: 2.007.363,42 €
Budget TPLj: 196.405,12 €
Latest news from acceleration programmes in Danube region are available HERE. 
Back