BLUE BIO MED: Mediterranean Innovation Alliance for sustainable blue economy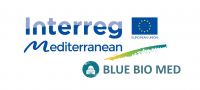 Project date: 01. 09. 2020 - 30. 06. 2022
Webpage:
https://blue-bio-med.interreg-med.eu/
Contact: Peter Medica
Phone: +386 (0)1 6203474
E-mail: peter.medica@tp-lj.si
BLUE BIO MED is a strategic project funded under Interreg MED Axis 4 on Governance (PANORAMED) that focuses on blue bioeconomy. The project promotes the transformation of Mediterranean blue bioeconomy field toward sustainable development goals through innovation. It supports better governance of innovation policies bridging the transnational governance frameworks active in the Mediterranean area (i.e. UfM, UNEP-MAP, EUSAIR, WestMed, Bluemed Initiative, etc.) with the territorial – regional/national – policy making, assuming the Agenda 2030 Sustainable Development Goals (SDGs) as the common reference grid. Research and Innovation strategies for smart specialization (RIS3) are considered the key entry point to understand and orient the innovation trends and priorities across MED regions and connect transnational cooperation with investments for growth and jobs of the Cohesion Policy.
BLUE BIO MED intends to develop a governance model of innovation policies to tackle complex challenges and will test the innovative approach through policy experiments triggering the cooperation of the quadruple helix stakeholders for interregional innovation investments.
The project will be an open platform for an inclusive co-design process with the wider innovation community promoting a bottom-up MED Innovation Alliance for blue bioeconomy to streamline multiple efforts and initiatives around the Mediterranean. It will support the start-up of the Alliance to boost the Mediterranean leadership in transformative innovation of the blue economy.
BLUE BIO MED gathers 11 partners from Italy, Croatia, Greece, Slovenia, Spain, Montenegro, France, Malta and Portugal including research centers, science and technology institutes, innovation agencies, national and regional public authorities as well as a network or regions/interest group:
Project partners
ART-ER S. cons. p. a. – Attrattività Ricerca Territorio Emilia-Romagna (IT) – lead partner
Area Science Park Trieste (IT)
Ruđer Bošković Institute (HR)
National Centre for Scientific Research Demokritos (GR)
Technology Park Ljubljana (SI)
Center for Agro-Food Economics and Development (ES)
Junta de Andalucía - Regional Ministry of Agriculture, Livestock, Fishing and Sustainable Development (ES)
Innovation and Entrepreneurship Centre Tehnopolis (ME)
Conference of peripheral maritime regions of Europe (FR)
Malta Council for Science and Technology (MT)
Directorate General for Maritime Policy of the Ministry of the Sea of Portugal (PT)

Total budget
EUR 1,507,630.00
Back