Kinnernet Ljubljana 2023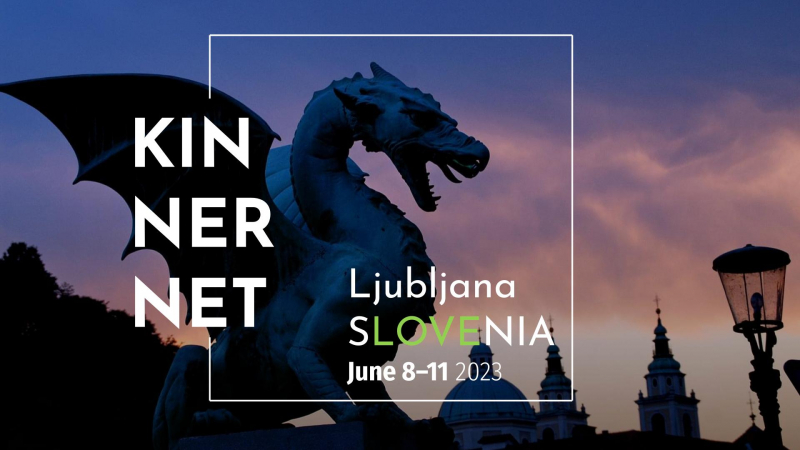 Date: 08. 06. 2023 at 17:00 - 10. 06. 2023 at 22:00
Register for the Event
Kinnernet is a gathering of leaders in technology, science, art and entrepreneurship. Talent from all parts of the world will spend three days sharing experiences, developing and discussing new ideas and innovations in casual conversations, special sessions and workshops, and a variety of activities around Ljubljana, one of the greenest, safest and awarded European Best Destination 2022.
On behalf of Yossi Vardi, the CEO of Ljubljana Technology Park, Jernej Pintar, Žiga Vavpotič, Dijana Galijaševič and Nina Pejič would like to invite you to participate in Kinnernet Ljubljana 2023. This is an exclusive invitation-only event known as the "hard-core" unconference and will be held in Ljubljana, Slovenia from June 8-11, 2023.
BACK GROUND
The first Kinnernet event ever was held in the spring of 2003, organised by Yossi Vardi, founding investor of ICQ and one of the fathers of the Israeli innovation eco-system.
Yossi Vardi is a chairman of numerous events and (un)conferences around the world, including DLD. He is inspired by the beauty of the city of Ljubljana, Slovenia and its people.
OUR MISSION
CONNECT 120 inspiring humans from all around the world.
INSPIRE new ideas, new thinking and deep exchange.
SUPPORT the growth of an Innovative ecosystem in region.
60 hand-picked Slovenes and 60 hand-picked global influencers… as interactive and connected mix of humans as possible. 
FORMAT
Kinnernet mixes in depth conversations, debates, workshops, but also creative and artistic moments.
Kinnernet is  special as it has no specific theme or topic like a regular conference. Instead, it aims to self-generate a unique human experience which facilitates trust, participation, networking and content creation in a spontaneous way.
During the event, sessions, activities and series of  exciting experiences take place.
There will be no traditional keynotes or formal presentations - no boredom. All we ask is that all participants are willing to share - whether it's insights, forecasts or fun. It's democratic. Discussion topics range from Artificial Intelligence, Environment, Society, Food, Health, Space, Economics, Humanity, History, Media, Mobility, Design, Refugees, Smart City, Millennials, Art and Music, and many more.
MASTER BOARD
Kinnernet begins as a tabula rasa with an empty master board to be filled by attendees with ideas or topics to discuss.
The master board outlines the key moments – sessions, activities and experiences – of each day. It serves as the program of Kinnernet. Participants are the real protagonists of the event and discuss topics that they propose themselves.
GADGETHON
Presentation of the most interesting devices, inventions and innovations that the participants bring with them - because they use them on a daily basis, because they have developed them themselves, or just because they are simply interesting to them.
Everybody is encouraged to go on stage and show his/her favourite gadget. It can be self-made or purchased: any special geek object, tech curiosity, digital or analog, new or old!
IGNITE TALKS
Ignite talk provides the outlet to share your crazy/funny/beautiful or otherwise special idea/project with 15 ppt slides that rotate automatically every 15 seconds.
Spark the audience & never pitch your work!
COOKING MADNESS
In a line with the gourmant city of Ljubljana, spiced with good humor and stunning location above Ljubljana; something special for food lovers! Team up and become the protagonistsof the Cooking Madness, in which the participants-chefs prepare the dinner for all Kinnerneters.
Bring food that represents your country or prepare food you simply love – as a meal for everybody.
PARTICIPATION
The participation fee for foreign participants is 549 € (450 € + VAT). This includes full board and accommodation (for double rooms occupancy). If you would like to be in a single room, the price is 745 € (610 € + VAT). 
Participants will have to pay for their own travel to Ljubljana. We will take care of your transfer from Ljubljana airport (about 30 minutes from Ljubljana international airport).
WANT TO JOIN US?
Register here: https://forms.gle/qYyrfsZE4zSKhPUEA
If you have any further questions, please contact kinnernet@tp-lj.si. We will be happy to assist you further.
FRIENDS, SEE YOU IN SLOVENIA!
Back