SCALE(up)ALPS Project - Scale up your SME in Europe!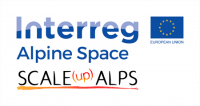 Project date: 01. 11. 2016 - 30. 04. 2019
Webpage:
http://www.alpine-space.eu/projects/scale-up-alps/en/home
Contact: mag. Mojca Cvirn
Phone: 01 6203406
E-mail: mojca.cvirn@tp-lj.si
Project SCALE(up)ALPS tackles common challenge of enhancing AS competitiveness & growth, targeting Regional S3 sectors & developing AS start-up ecosystem based on connecting alpine 4-helix (academia-business-public administration-capital).
Many AS areas have dynamic startup ecosystems, though hard to grow due to geo/cultural barriers. There isn't a common system to recognise, compare,integrate, link, promote innovative mountain/urban areas; no common measures are set to increase ventures in n.&quality. A single AS start-up community is envisaged to: strongly connect AS startup hubs, improve local business acceleration measures, integrate/scale mountain/rural/urban startups,bridging entrepreneurs, investors,adminstrations, foster AS innovative entrepreneurship;open AS techmarket; involve actors in a supralocal platform of opportunities,relations,challenges. Target: high growth circular economy sectors- transport/green mobility,ecobuilding-brown economy,applied food&tourism digital tech,social innovation. 
Key alpine sectors growth support is crucial to overcome economy fragmentation.
The project, pivoted by AS start-up ecosystems hubs, will integrate the alpine dimension into start-up development & acceleration processes, via:
- Policy Harmonization: improvement of AS start-up creation/acceleration strategies; AS start up multi-level initiatives capacity building;
- Support model definition: AS 4helix network construction & outreach; Action plan drafting, support services &training analysis-design;
- Pilot creation: start up/scale up support model test&validation;
- Intervention consolidation: AS protocol signature, securing strategy durability & transferability; AS startup digital open government uptake;
- Communication: AS/EU awareness campaign, community branding, policy outreach. Project is innovative for consolidated scientific International Startup Genome based analysis; an EU Start up Manifesto based participatory workflow and best practices repository; a strategic ALPINE pilot.
Total budget: 1.424.602.120 EUR.
Back