SACHE: Smart Accelerators of Creative Heritage Entrepreneurship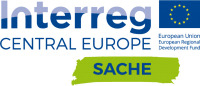 Project date: 01. 01. 2019 - 31. 12. 2021
Webpage:
https://www.interreg-central.eu/Content.Node/SACHE.html
Contact: Gašper Juvančič
Phone: 00386 (0)1 620 3 490
E-mail: gasper.juvancic@tp-lj.si
The project SACHE aims to develop and implement integrated local strategies to locate companies from the creative industry in and around heritage sites. The project focus is on expanding and strengthening the role of heritage sites, symbols and values as they accelerate local growth of creative industries.
Overall Objective of the Project
The development and implementation of strategies to enhance the value of cultural heritage and exploit the full potential of the cultural and creative industries should lead to regional economic growth and job creation. Cooperation between different countries will help improve capacity and find integrated approaches.
Main results
The SACHE project will develop and deliver integrated local development strategies based on tools and approaches that accelerate creative entrepreneurship within and around cultural heritage. The project will expand and strengthen the role of cultural heritage sites, symbols and values by transforming them into "Smart Accelerators of Creative Heritage Entrepreneurship" (SACHE) based on a newly developed central European model.
Museums, galleries, theatres, and festivals will be conceived not only as sites of education or entertainment but also as accelerators, i.e. cultural engines that mobilize and nurture the energies of small creative businesses. 
This will expand access to cultural heritage as well as the production of value-enhancing services, the development of innovative clustering of CCIs around each SACHE. It will also help to foster cross-sectoral cooperation with other industrial and service sectors, especially in digital technologies.
Project partners
Camera di Commercio Industria, Artigianato e Agricoltora di Venezia Rovigo Delta Lagunare, Venice, Italy
Universita Ca 'Foscari, Venice, Italy
Autonoma Friuli Venezia Giulia Regions, Trieste, Italy
Development Agency Zagreb, Croatia
Aufbauwerk Region Leipzig GmbH, Germany
Bayern Innovativ, Nuremberg, Germany
Pecs-Baranya Iperkamara, Pecs, Hungary
Maribor Development Agency, Maribor, Slovenia
Technology Park Ljubljana, Slovenia
Laser Consult Kft., Szeged, Hungary
Rzeszowska Agencja Rozwoju Regionalnego S.A., Rzesow, Poland
Innova Kft., Budapest, Hungary
Overall budget
2.427.067,00 €
Back