NEORION: Promotion of green maritime technologies and new materials to enhance sustainable shipbuilding in Adriatic Ionian Region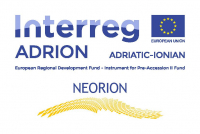 Project date: 01. 02. 2017 - 31. 01. 2019
Webpage:
https://neorion.adrioninterreg.eu/
Contact: Monika Cvetkov
Phone: 00386 (0)1 620 3 490
E-mail: monika.cvetkov@tp-lj.si
The shipbuilding industry in Europe, and in particular the Adriatic Ionian region, faces strong competition, which comes mainly from Turkey, S. Korea and China, where shipbuilding capacity has grown exponentially.
NEORION will explore the perspectives of maritime & blue technologies in the respective area & address the common challenge of lack of demand through joint efforts of the participating countries aiming at exploiting new business opportunities coming even from other sectors (e.g. automotive, energy, aerospace),through carefully planned technology transfer actions. The scope of this diversification is to allow further use of existing facilities & staff know-how, while operating in a promising niche market. In this context, ADRION region could become a privileged destination for ships that request specific revisions & modifications to become greener in accordance to international regulations. NEORION will boost the further use of new technologies that can be applied to ships improving their sustainability, in the framework of transnational cooperation approach involving in an effective way triple helix actors operating at Macro-regional level.
Last but not least, NEORION will accelerate the introduction of green solutions in the maritime industry by involving the private, government and social sectors. The project should ensure that a strong shipbuilding industry can revive abandoned yards and improve the economy of coastal and island communities.
NEORION Interreg Adrion project consists of cooperation of 8 project partners in the field of business support institutions, universities and private institutions.
Main project objectives:
The main purpose of the project is to establish a transnational wedge in the Adriatic-Ionian region on green shipbuilding, thereby accelerating the participation of key actors in the maritime regions, optimizing the market use of research and innovation and encouraging the green shipbuilding sector to new and emerging markets. Project partners identified the following main objectives of the project:
facilitate the market uptake of research and innovation and push Green Shipbuilding sector towards new and rising markets
capitalize on the existing experience and expertise of the sector and multiplying it by establishing a transnational Green Shipbuilding Cluster that will offer a consolidated mix of support services to all relevant stakeholders
set the vision of Green Shipbuilding in the region by promoting industrial involvement, supportive policy and financial framework
The main project outputs:
Transfer of knowledge and technology among business and research actors to strengthen the innovation capacity of the target industry (140 participating organizations)
Establishment of a transnational pilot network supporting sustainable shipbuilding in the ADRION region with guidelines for the development of a sustainable shipbuilding cluster ADRION (2 clusters)
Support mechanisms and tools for enhancing innovation capacities related to the sustainable shipbuilding sector; R & I recommendations to speed up the development of the shipbuilding sector; and a policy plan to improve sustainable shipbuilding with innovative marine technologies (3 action plans)
Project partners:
University of the Aegean – Research Unit
Technology Park Ljubljana Ltd.
Chamber of Commerce Industry Crafts and Agriculture of Venice Rovigo Delta-Lagunare
MINISTRY OF DEFENCE - ITALIAN NAVY
Alma Mater Studiorum - University of Bologna
Piraeus Port Authority S.A
University of Zagreb, Faculty of Mechanical Engineering and Naval Architecture
Brodarski institute Ltd
Total budget: 1.262.280,40 EUR.
Back