NANO-REGION: Open Network for Nanotechnology-Based Innovation
Project date: 01. 02. 2019 - 31. 01. 2022
Webpage:
https://www.ita-slo.eu/sl/nano-region
Contact: Gašper Juvančič
Phone: +386 (0)1 6203490
E-mail: gasper.juvancic@tp-lj.si
Industrial strategies of the third millennium are increasingly focusing on highly specialized sciences and sophisticated technologies, including nanotechnology. In the Interreg Slovenia-Italy programme area, there is a strong manufacturing tradition which, in order to meet the challenges posed by the global structure of the new millennium, urgently requires a qualitative leap. At the same time, many of the excellent research centres in the area already master the most advanced knowledge in emerging technologies, especially in the field of nanotechnology.
Main goals and project activities
The aim of the Nano-Region project is to integrate existing nanotechnology knowledge and use it to meet the needs of the manufacturing sector.
The project will carry out communication activities aimed at bridging the gap between science and manufacturing activities in the field of nanotechnology, cross-border standardization of practices used in nanotechnology, and establish an operational network of laboratories, which as a single entity will provide comprehensive support for technology transfer to regional companies, including proofs of concepts.
Expected results
The main result of the project is the efficient transfer of technologies from research centres to companies in the cross-border area of Slovenia and Italy. This will help improve the competitiveness, employment and economic impact of local manufacturing companies in the medium and long term. The project will be successful if it fulfils the following objectives: (a) in the short term (3 years from the beginning) the project will significantly increase the number of joint research projects of companies and research centres; (b) in the medium term (5 years) there will be a new a scientific and business culture that can together face the technological challenges of the new millennium, and to increase the number of careers related to technology transfer; and (c) in the long term (10 years), participating companies will increase their turnover ten times the Interreg SI-IT investment.

Project partners
Consiglio Nazionale delle Ricerche
Università Ca' Foscari Venezia – Dipartimento di Management
Tehnološki park Ljubljana d.o.o.
Center odličnosti nanoznanosti in nanotehnologije – CO Nanocenter
Primorski tehnološki park d.o.o.
RRA Zeleni Kras
Università Ca' Foscari Venezia – Dipartimento di Scienze Molecolari e Nanosistemi
Univerza v Novi Gorici
Elettra-Sincrotrone Trieste S.C.p.A.
Università degli Studi di Trieste
Total budget
3.529.323,50 EUR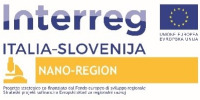 Back