DEAS: Data Economy Alps Strategy to stimulate participation, competitiveness and new business in Alpine Space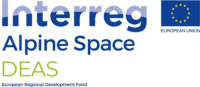 Project date: 01. 10. 2019 - 30. 06. 2022
Webpage:
https://www.alpine-space.eu/projects/deas/en/home
Contact: Monika Cvetkov
Phone: +386 (0)1 6203474
E-mail: monika.cvetkov@tp-lj.si
In the era of Data Economy, the most valuable resource is not oil anymore but data. Data Economy is very relevant and applicable to the Alpine Space and its territorial challenges. 80 million people living in the Alpine Space have specific needs for valuable and on-time quality services. To provide for these services, Open Data/Linked Open Data (OD/LOD) may be exploited. OD/LOD is a mine of available information that can serve as a source for valuable services provided by the public sector and the business. Even though there are several local initiatives using OD/LOD in different sectors in the Alpine Space, no clear impact on the region as a whole is registered and efficient solutions are missing. DEAS intends to improve the value of using OD/LOD for public service and business and will focus on strategic sectors of the Alpine Space which can benefit from the use of LOD (such as environment, tourism, mobility). With DEAS, the public and private sectors will boost the creation of new disruptive and customer-oriented services/products for all.
Main goals and project activities
To strengthen the value of exploiting OD/LOD availability for increasing innovation with new products addressed to public services and businesses, to raise the competitiveness of the Alpine Space and its digitalization process contributing to the Alpine Space Policy Strategy on Data Economy. To strengthen the cooperation between public and private actors working in the Data Economy (PPPs), namely OD/LOD, to exploit their potentials in terms of innovation and growth and contribute to implement S3 and related 2020+ local development plans.
Expected results
Public administration will be supported in the implementation of their e-government strategies efficiently boosting new services/business which better match the needs of citizens, visitors, tourists and entrepreneurs. Intermediaries will better understand and exploit the opportunity of the Data Economy to stimulate private sectors in using OD/LOD and to support them in a more profitable way fostering the competitiveness of the area and alpine companies; 160 SMEs and startups will be assisted in better exploiting the available OD/LOD to develop new services and products, access new markets and meet customers´needs. Concrete outputs of the project include the Alpine Space methodology on OD/LOD, a platform and the DEAS Strategy able to promote the availability of relevant OD/LOD and their exploitation. DEAS involves all quadruple helix actors in its co-creation processes.

Project partners
Regione del Veneto (IT) – lead partner
Camera di Commercio Industria Artigianato Agricoltura di Treviso-Belluno (IT)
bwcon GmbH (DE)
Stadt Konstanz (DE)
Città di Vercelli (IT)
Consorzio per il Sistema Informativo (IT)
Grand E-nov (FR)
Steirische Wirtschaftsförderungs GmbH (AT)
Business Upper Austria – OÖ Wirtschaftsagentur (AT)
Tehnološki park Ljubljana d.o.o. (SI)
Mestna občina Ljubljana (SI)
Lyon Urban Data (FR)

Associated Partners from Slovenia:
Jožef Stefan Institute  - SRIP PMiS
Ministry of Public Administration
Total budget
2.253.539,65 EUR
Presentation video of the installation of water level measurement sensors for the area of ​​the Municipality of Ljubljana: https://youtu.be/ycfHZo9tvMg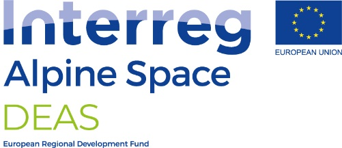 Back