Winners of the GREENHACK: With open data to a green future are selected
10. 11. 2021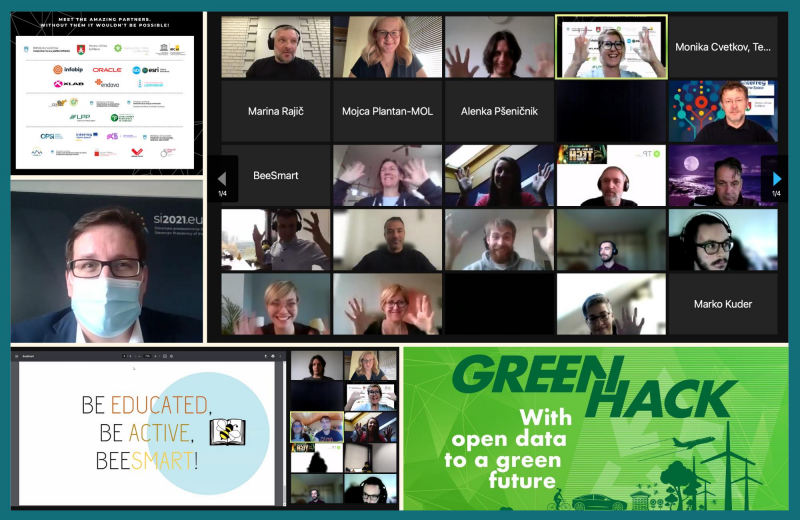 On Tuesday, 9th we concluded the GREENHACK: With open data to a green future with the final pitches of the teams who made it in the semi-finals: 8 innovative tech digital solutions and got 4 winners – top innovative breakthrough ideas!
The goal of this hackathon was to approach sustainable mobility as an alternative to using our own car in Ljubljana, the public aware of waste management, get solutions to raise awareness about natural disasters, and encourage the monitoring of bee information in everyday life.

That was the reason, why we have designed 4 challenges for which we were looking for breakthrough solutions:
- Sustainable mobility approaches
- Waste management solutions
- Digitalized solutions & raising awareness on the importance of bees
- System solutions to raise awareness about natural disasters


The participation was international, as the hacking was joined by participants from 9 countries: Slovenia, France, Austria, Croatia, Turkey, India, Sweden, Lebanon, and North Macedonia. 16 teams with 50 hackers were looking for innovative solutions the whole weekend.
Who are the winners?
BEE challenge:
BeeSmart: An educational interactive application that offers beekeepers access to the necessary information and knowledge they might need for their activities, all in one place.
MOBILITY challenge:
WaitLess: The time of browsing Google Maps for bus and bike routes is over. With WaitLess - a simple, user-friendly visualization - we will increase the use of public transport, reduce the carbon footprint, add bike paths and facilitate travels in Ljubljana. As their pitch said… because no one wants to wait.
FLOOD challenge:
Flood Alert: A solution that will completely simplify and improve flood warnings, allowing us to prepare for them and protect our property (and ourselves) in case of disruptive weather and other catastrophes.
ENVIRONMENTAL challenge:
The Flow of Waste: Since the waste collection signifies for companies a huge cost load, with The Flow of Waste solution companies would not only reduce their costs but also simplify the waste disposal process - resulting also in less CO2 production and less congested roads.
The awards were assigned to the winning teams by the Minister of the Public Administration, Mr. Boštjan Koritnik, who emphasized the importance of the solutions that came up during the weekend for us all, as they help to build a more green and sustainable society.
Thanks to all amazing partners & teams once again!
The initiators of the hackathon are Technology Park Ljubljana and the City of Ljubljana, the Ministry of Public Administration, and the International Research Centre for Artificial Intelligence under the auspices of UNESCO - IRCAI. Transformation Lighthouse helped us with the organization in cooperation with technology partners and partners, who provided the data for challenges.

What is next?
In the following activities, DEAS project partners, Technology park Ljubljana and City of Ljubljana will help participants, who are willing to continue with solution development, to make visibility and opportunity for future business/collaborations. This will be achieved through active participation in hackathons, organized within DEAs partnership, workshops, and 1:1 assistance, and special emphasis will be placed on solutions related to mobility and flood challenges.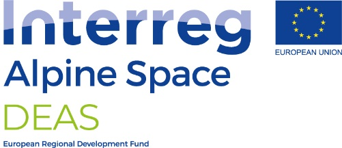 Back