Meet our team: Vera Nunić teaches changes in thinking more than entrepreneurial skills
29. 05. 2020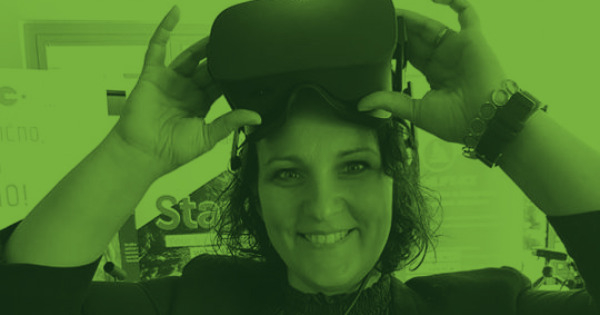 Vera Nunić is the heart and trademark of Technology park Ljubljana, having led and developed entrepreneurial content for startup and scaleup companies for more than a decade.
In this decade she led and was part of an enviable number of successfully completed projects, but most importantly, part of the community of companies who, especially through dedicated individuals like her, attributed great importance to the supportive environment.
She is fascinated by people in these companies who make changes, their go-getter attitude, and she likes to meet them also outside the office. In her career, she has changed from a medical to an entrepreneurial direction, but the common thread remains - the support of people. It is the support, more in a psychological than in an entrepreneurial way, that has driven her most lately.
From a very young age, she was aware that she wanted to help people and above all to stay in touch with them. At that time, it seemed to her that the direction of health care was the closest to this mission. She enrolled at the Secondary school for pharmacy, to become a laboratory technician. She was tempted by expeditions to Africa, such as Doctors without Borders.
She soon began to do internships in various medical institutions. She realized that the school system as such would not allow her to realize this dream, as she was locked up in a laboratory with 30 microscopes instead of being in contact with people. She decided to look for new challenges.
From ESS to support services
After graduating from high school, she applied to ESS (Employment Services of Slovenia). The consultant offered her the position of regional coordinator for public works programs. "Of all the words in the title of this job, I did not understand a single one," Vera explains laughing.
At the time, The ESS was in the process of setting up a new public works program, which was probably the early days of social entrepreneurship. She passed the interview and was selected from 400 applied candidates. The prerequisite for employment was a degree in entrepreneurship, but she was still thinking more about biochemistry or psychology. In the end, she decided to accept the challenge. "Up to this point, I had never heard of anyone studying entrepreneurship. I imagined that everyone was doing the kind of work they had been studied for - for example, a carpenter studying woodworking, a photographer studying photography and such, not entrepreneurship", she explained.
A turning point in her career was the study of entrepreneurship
She was pleasantly surprised with the study itself because it was practice-oriented. Her classmates were between 18 and 50 years old and among them were entrepreneurs, managers, young craftsmen, people having various businesses from the IT sectors, up to forklift truck distributors, and small pet shops. She has learned so much from their stories. Soon after the first semester, she realized that she would not return to the health care sector. She realized that entrepreneurship is a lifestyle and she could build up her own entrepreneurial story.
She has changed course, but the red thread has remained the same - support 
After a few years and miles, Vera entered a supportive business environment and she still supports many entrepreneurs today. She found herself in this environment because the market and customers confirm that what she does gives value, and at the same time work makes her happy. She knows that this is the right direction, but she is not sure yet if this is the only direction.
In her career so far, she has seen countless entrepreneurial attempts, she has advised numerous companies, some have been successful, others have not. She likes to work with people who are positive, persistent, who constantly look for ways to improve themselves and when they fall, they pick themselves up even faster with new ideas and new projects. Such people inspire her, give her momentum and confirmation. "Success stories change, you can be at the top today, you can fall overnight. But persistence remains." She is firmly convinced.
She helps entrepreneurs with advice, networking, and challenging them. She is aware that she is not called upon to give solutions "I show them guidelines or present good practices from other similar companies, but nothing more," she says. She prefers to listen to entrepreneurs rather than talk, as this is the only way she understands what they need and where she can help them. In this day's entrepreneurs do not have sincere interlocutors.
Entrepreneurial therapist
More important than entrepreneurial content that can be learned are the skills in personal growth, thinking, or personal development - "Mindset". Of course, she provides them with financial resources, helps them to find a new employee, to close a deal, but what she wants to contribute is a change in thinking - that is more sustainable. Since she has always been interested in psychology, it is great that she can combine these two fields and with a smile, she can refers herself an entrepreneurial therapist.
Top companies are run by mature and stable entrepreneurs
Vera is certain that "Only a stable personality can lead a company and a team." In most of her cases, entrepreneurs are basically engineers and do not necessarily develop into good CEOs. The right solution often turns out to be, that the company founders appoint someone who knows how to manage well as a manager, as they continue the engineering and development work.
Vera is convinced that "Mature entrepreneurs are those who recruit a team of people who empower and trust them that they can manage the company as well as they would. The most successful are those who know how to find a balance between work and leisure. A good product or service is only one part of the entrepreneurial story and starting a healthy company that works even when the founder is not around is the key to success. I encourage companies to do so".
Entrepreneurial stories that warm her heart
There are many stories that put a smile on her face. There are many entrepreneurs whom she appreciates very much and respects their work. EKWB is one of those stories that has accompanied her from the beginning. 14 years ago, she advised the current director Edward Koenig, then a student, on how to start a business and helped him with the registration. She is excited about his growth, especially personally. As a very young, inspiring student, he embarked on a niche industry where he innovated, developed, and understood that if he wanted to create a global company, he had to sell it. He developed himself and the company. At some point, he was able to understand and partially withdraw from the leadership position and shared it with a professional manager. He always kept his foot between the doors of development because that was his passion. At the same time, he created a wonderful family, a home, and kept the people around him who mean a lot. Vera is proud that he can lead more than 100 people in the toughest global competition, penetrate industries some only dream of, and yet to be willing to learn and be a great conversationalist for coffee.
There are many more such stories, written by extraordinary people.
Continuing her business journey
And what are Vera's wishes in the future? "There are still many challenges in the Ljubljana Technology Park. Services we develop and prepare for entrepreneurs have always shown that we are on the right track. But it is never good enough and there is always room for improvement, so I look forward to new ventures. As a supportive environment, we are increasingly focusing on concrete solutions for companies, especially of course for fast-growing technology companies."
"It would also be interesting to experience my advices in practice for myself. Perhaps to tackle my own entrepreneurial story, perhaps. You know that the new dogma is that the most successful entrepreneurs are my age, "she says with a laugh.
She certainly remains in the field of business support but in a slightly different way. More systemic, less project-oriented. She is extremely connecting, her directory is available to everyone, she quickly detects with whom she needs to connect with, which things complement each other.
Growth and development also led at home
She says she still must work a lot on her personal development. She balances privately with two children who have different needs due to the age difference (16 and 5 years). One moment they talk about love, alcohol, and social orientations, and in another moment, they talk about dinosaurs, Lego bricks and the universe.
However, the goal is always to be a loving wife and mother. She wants to give the children a good signpost, which above all means that they will become independent, responsible, human, conscientious, caring for themselves and their environment. To find their motive and follow it, no matter what others say. "We are not counting school grades, there are just numbers, what counts are values," she believes.
As a child she danced "show dance", and now she misses it. Otherwise, she makes up for it with rare but good parties. But she does not rule out that one day she will learn to dance more actively again. She also wants to have more time to read good books.
Author of the interview: Elvisa Basailović
Keywords: startup, scaleup, entrepreneurship, technology, growth
Back